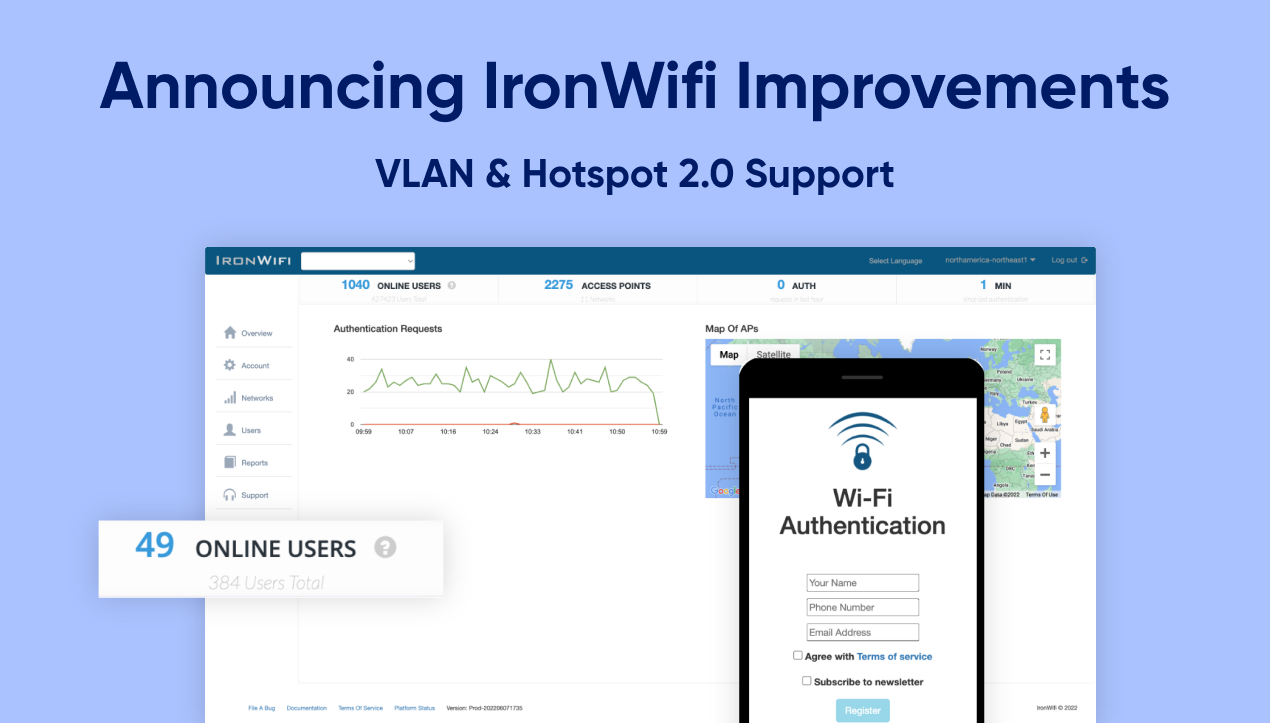 DATE:

AUTHOR:

The OfficeRnD Team

RELATED ROADMAP ITEMS:
Admin Portal
Integrations
IronWiFi Integration Improvements: VLAN and Hotspot 2.0
DATE:
AUTHOR: The OfficeRnD Team
The OfficeRnD integration with IronWiFi empowers Flex space operators to effortlessly connect their RADIUS-based network with OfficeRnD, unlocking a new level of efficiency and user experience for their members. IronWiFi's cloud-based platform is compatible with dozens of Wi-Fi vendors including Cisco Meraki, Ubiquiti Networks, Ruckus, and Aruba.
Once the integration between OfficeRnD and IronWiFi is active, operators can take advantage of the following features:
Track member presence with OfficeRnD and IronWiFi, providing valuable insights to optimize your Flex space for billing or monitoring purposes.

Achieve unified authentication across your network and member portal with secure synchronization between OfficeRnD and IronWiFi. Members will enjoy a branded login experience using the same credentials for their mobile app, member portal, and network access.

Automate day-pass usage for members logging in with OfficeRnD and IronWiFi, providing a hassle-free experience for operators.
We spoke about the above Iron WiFi features in more detail in our first launch article covering the IronWiFi improvements, and are thrilled to announce additional functionality operators have to manage their networks.
Today we are excited to launch VLAN Management and Hotspot 2.0 are looking forward to seeing how operators take advantage of this new wifi functionality!
Simplify VLAN Management - easily administer VLAN assignments for different types of network traffic and improve network security.

Enhance onboarding with Hotspot 2.0 - providing automatic network authentication and secure credential storage, eliminating password-sharing risks, and delivering a seamless WiFi experience for your members.
If you are interested in trying out these features for IronWiFi reach out to us at product@officernd.com and we would be happy to help you get set up and walk you through the process.
You can check out a video overview of the new functionality here:
Simplify VLAN Management
VLAN management allows operators to manage VLAN assignments for different type of network traffic. The VLAN tagging functionality available in OfficeRnD is designed to address the two main use cases operators are facing when managing their WiFi network with VLANs. You can check out a help article that covers the usage of VLANs here.
Use Case I: Tag the traffic of a group of members with the same type of membership. This scenario is ideal for coworking or flex members whose traffic should be separated from guests and other members.

Use Case II: Provide a unique VLAN tag to each company in your space. Whether they occupy one office or have multiple memberships, each company gets its own unique tag.
VLANs can be configured in the Iron Wifi integration sections or imported with a .CSV Import in the Import section. You can check out our help article on importing VLANs here. Operators also have the ability to configure VLANs manually within a company or member profile.

Enhance Onboarding with Hotspot 2.0
Hotspot 2.0 is a protocol that enables seamless and secure authentication and roaming between Wi-Fi networks. It offers several benefits for a coworking space WiFi networks, including ease of use, enhanced security, and improved WiFi performance. You can check out our help article on Hotspot 2.0 here.
Hotspot 2.0 Operator Advantages: 
Hotspot 2.0 eliminates the need for users to manually connect to a Wi-Fi network, which can be a time-consuming and frustrating process. Instead, devices can automatically connect to the network when they are in range, providing a seamless and hassle-free experience for users.

Improved security - Hotspot 2.0 uses WPA2-Enterprise encryption, which provides strong protection against unauthorized access and eavesdropping. It also offers additional security features such as device certificates, which help to prevent man-in-the-middle attacks.

Hotspot 2.0 can provide faster and more reliable connections than traditional Wi-Fi networks. This is because it supports multiple channels and frequencies, allowing devices to automatically switch to the best available connection.
Overall, using Hotspot 2.0 for a coworking space Wi-Fi network can be a smart choice, as it can improve the user experience, enhance security, and boost performance. However, it's important to ensure that your network infrastructure is compatible with the protocol and that your users' devices are capable of using it.
Let us know what you think!
By leveraging the power of IronWifi's advanced security features, you'll be able to ensure that only authorized users are able to access your network, and that your sensitive data is always protected!
Have questions or thoughts about the IronWifi integration improvements? As always, leave us feedback on this announcement, or reach out to us via email at support@officernd.com