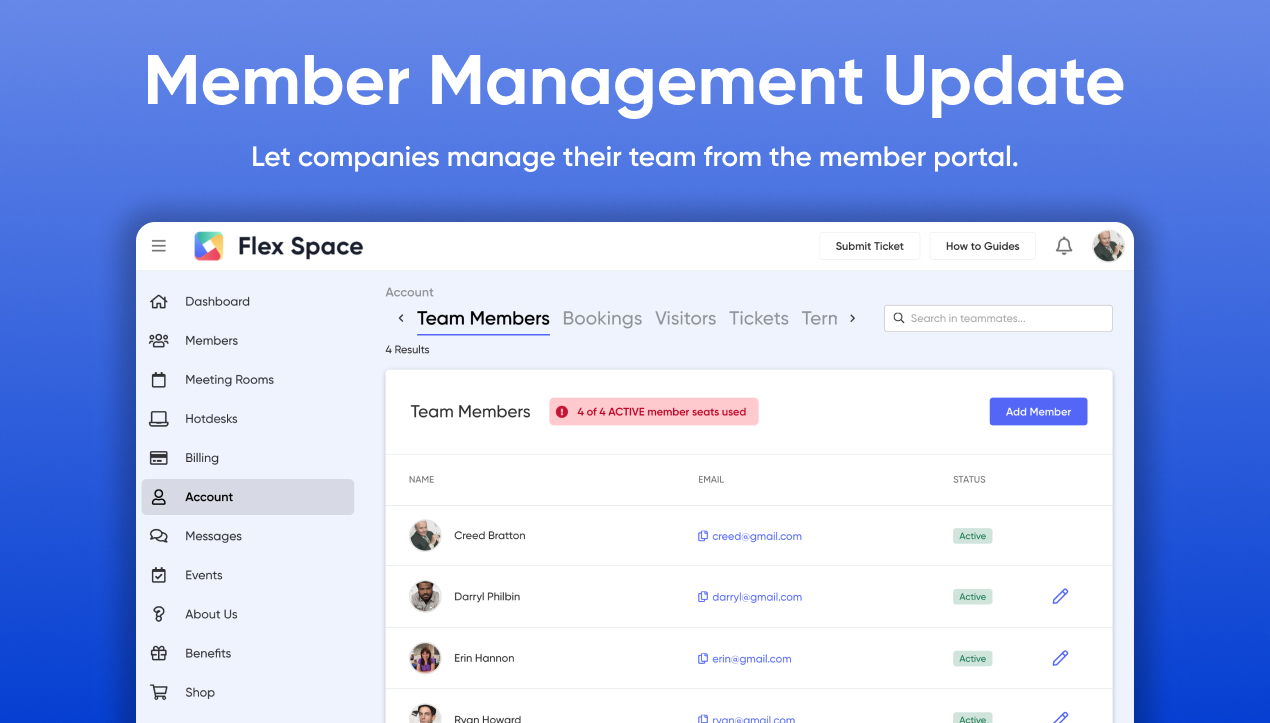 DATE:

AUTHOR:

The OfficeRnD Team

RELATED ROADMAP ITEMS:
Member Portal Team Management Update
DATE:
AUTHOR: The OfficeRnD Team
Today we are thrilled to launch the Member Management Update, a new functionality that allows members to manage their own teams within the Member Portal! Operators no longer need to manually enter the name and email of each new company member; instead, they can now add the Contact Person and ask them to quickly welcome their own teammates through the Member portal.
In addition, operators can now set limits on the amount of active members per company to control the total amount of members a Contact Person can add. The Member Management update will make the process of managing members simpler for teams and operators alike! We've made a short video that covers the Members Management update you can watch here.
The Member Management settings may be enabled/disabled in the Admin portal and can be found in Settings / Platform / Community. This setting allows operators to hide the "Add Member" button if they do not want to give this functionality to members. You can read the help article for the Member Management functionality here.
Contact Persons can now manage the status of their company members through the Member Portal
Contact Persons in member companies now have more flexibility in how they manage their teams within the Member Portal. Contact Persons can now navigate to the "Account" section and click on "Team Members" to manage their team.
Contact Persons of a company are now able to add and edit their teammates and specify what status those members have. When adding new members, the Contact Person can add their email, as well as the status of that member within the coworking space.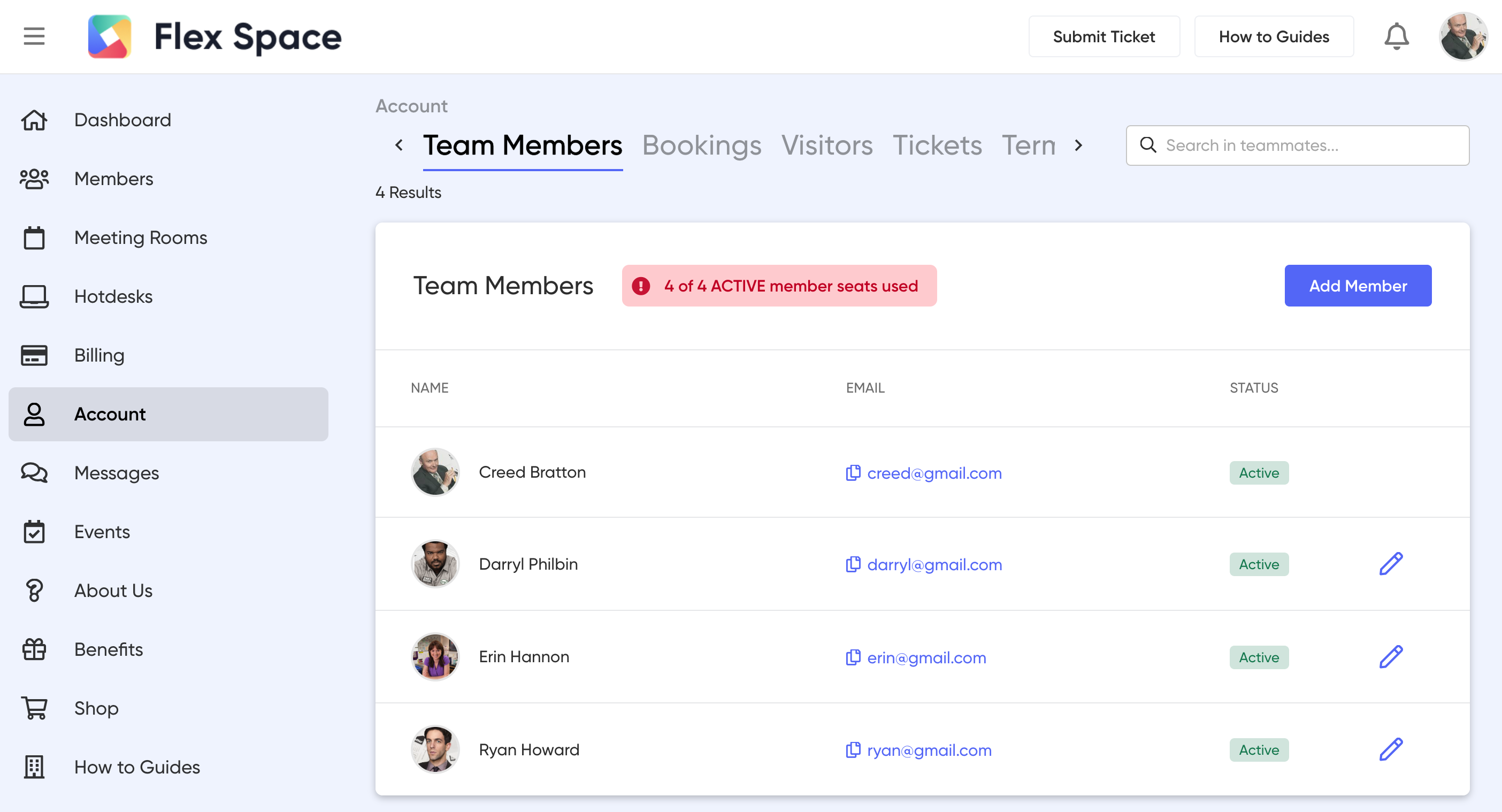 Email notifications will be sent to Admins if a Contact Person adds a new teammate so that operators can take the appropriate action if necessary.
Contact Persons can also edit members to adjust their name or update their status within the Member Portal by clicking on the pencil icon. Admins will get an email notifications when changes are made to Team Members statuses.
Members marked as "Active" by the Contact Person automatically get invited to the Member Portal
When a Contact Person adds a new teammate or marks an existing one as "Active" they will now be automatically granted access to the OfficeRnD Member Portal. This will allow companies to set up their team's access to bookings and space resources without operators having to invite each new individual member.

If a company is set up in the Admin backend by an operator - invites to the Member Portal will not be automatically sent to the member company until the operator manually does so. This ensures that operators can still set up and build companies the way they want in the backend, and only invite the team when they are ready for them in the system.
Admins can now set limits on the number of Active members a company can have in the Member Portal
We are excited to give operators even more ways that they can manage member companies. We now allow operators to set a limit on how many active members a company can have in the Member Portal. To enable this functionality on a Member company - go to the company page and scroll down to find the "Active Members Seat Allowance" option under Member Apps. Once you enable this option you will be able to set a member limit for that specific company. Keep in mind, this limit will only be active for the users of the Member portal. Admins will always be able to add more members. You can see more information about setting up this feature in our help article here.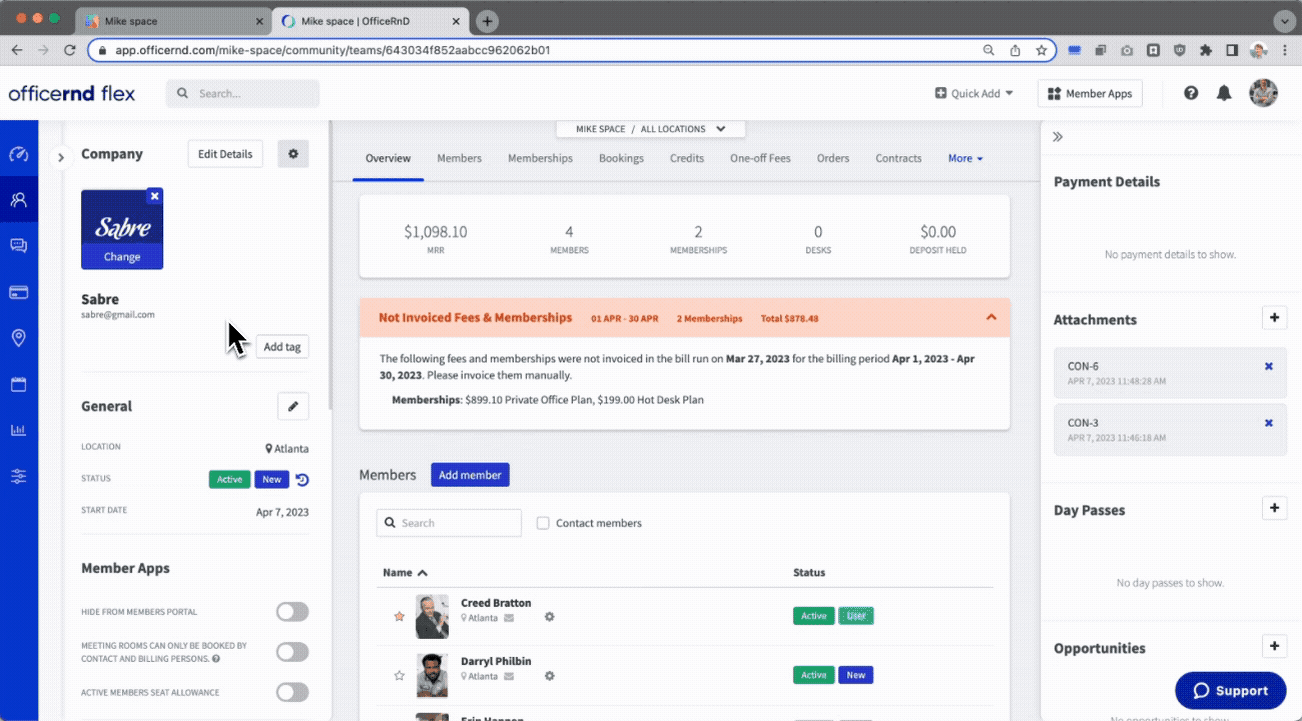 Once this feature is enabled members will see an active count of members currently in the system on their Team Members page. They will not be able to activate more members than the allowed amount. This prevents member companies from adding in too many active members in the system and gives operators even more control in how they manage their space and services.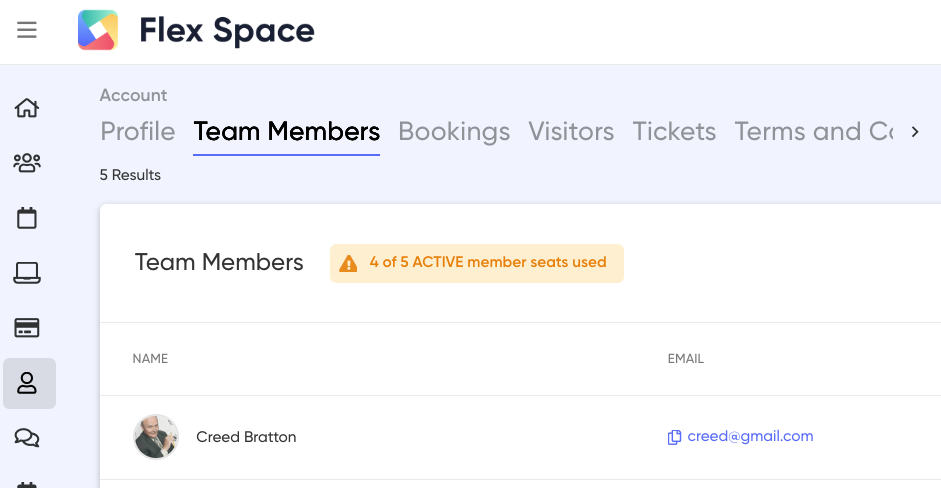 We can't wait for operators and teams to start using Member Management functionality. We believe the update will further simplify member administration and enable businesses to self-serve and manage their teams independently.
We are always open to feedback
Any thoughts, feedback, or hot takes on what we're working on or anything you've read above? As always, leave us feedback on this announcement, or reach out to us via email with any questions at support@officernd.com
Happy coworking!