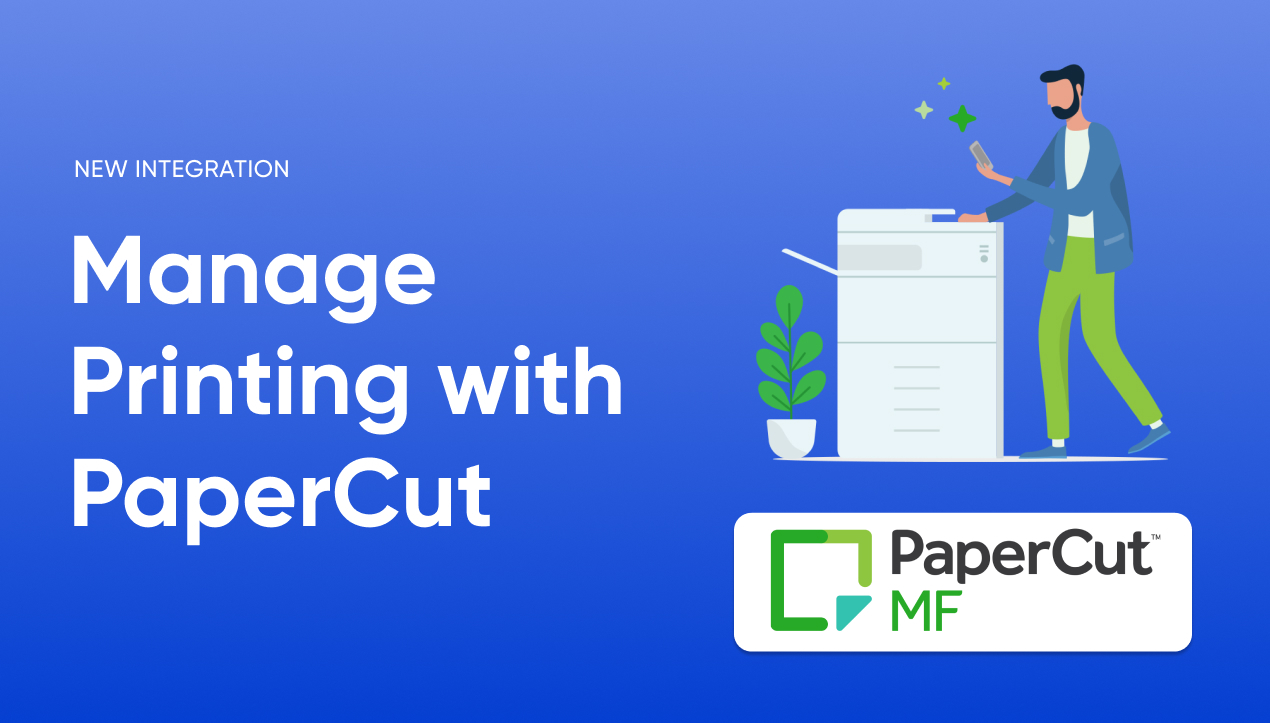 DATE:

AUTHOR:

The OfficeRnD Team

RELATED ROADMAP ITEMS:
Admin Portal
Integrations
The PaperCut MF Printing Beta has Arrived 🖨️
DATE:
AUTHOR: The OfficeRnD Team
Managing printing in a flex space can be a difficult and time-consuming process for community managers, IT teams, and operational staff. That's why we're adding additional printing integrations so operators can easily connect the print service they already use!
OfficeRnD printing integrations allow operators to sync members and print credits with dedicated printing platforms to automatically count prints and create fees. We are excited to announce that we have just launched the PaperCut MF beta and will support the following functionalities:
Easily connect and set up the integration with a single installation file that runs on the PaperCut MF printing server

Automatic sync of members from OfficeRnD to PaperCut MF - with the ability to choose which members are synced

Automatic creation of Fees in OfficeRnD based on Print Jobs completed with PaperCut MF (Print and Pay option)

Control of the initial balance assigned to each user in PaperCut MF as well as adding additional balance on a daily, weekly or monthly basis

Log into PaperCut MF using your OfficeRnD credentials
You can contact product@officernd.com to get started using the integration today. Let's dive into the features of the PaperCut MF integration below!
Sync your members from OfficeRnD to PaperCut MF
After the PaperCut MF <> OfficeRnD connector has been installed on your print server, admins can go to the configuration screen to adjust the integration settings. When it comes to managing your members, the default setup is that all active members from all locations will be synced with PaperCut MF. 
You can filter specifically which members you want to be synced to PaperCut MF using the three criteria below: 
Member Status

Locations

Plans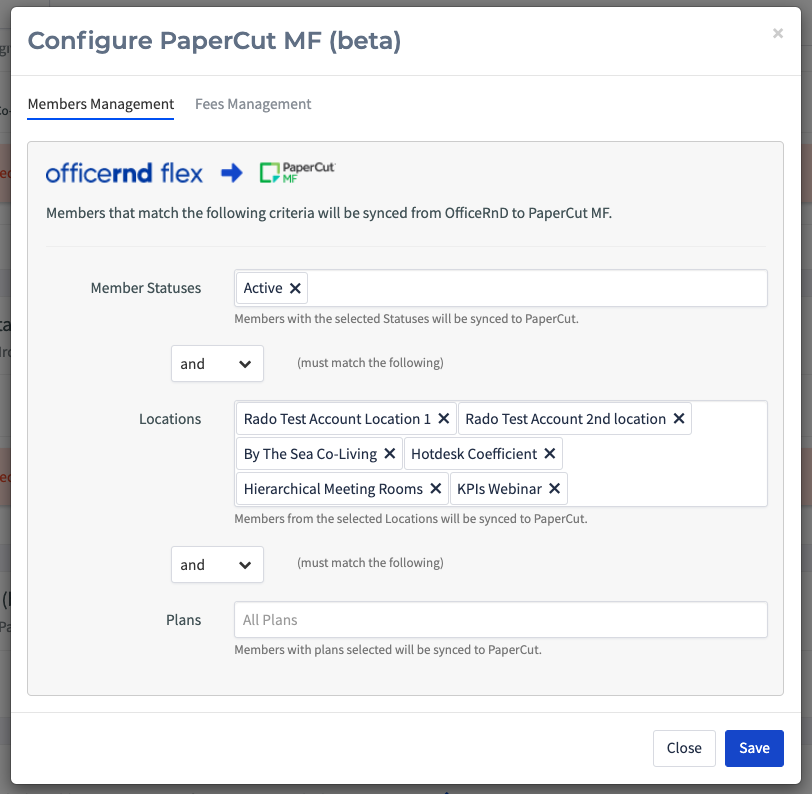 Create fees in OfficeRnD based on print jobs completed in PaperCut MF
The Print and Pay option allows members to print without having an available balance in PaperCut MF. This means users that don't have print credits in PaperCut MF will create a negative balance in the system and those fees will be automatically transferred and charged in OfficeRnD.
Operators also have the ability to control the initial balance assigned to each user in PaperCut MF and can also add additional balance on a daily, weekly, or monthly basis. It is important that admins set up their specific pricing for black and white and color printing directly in PaperCut MF.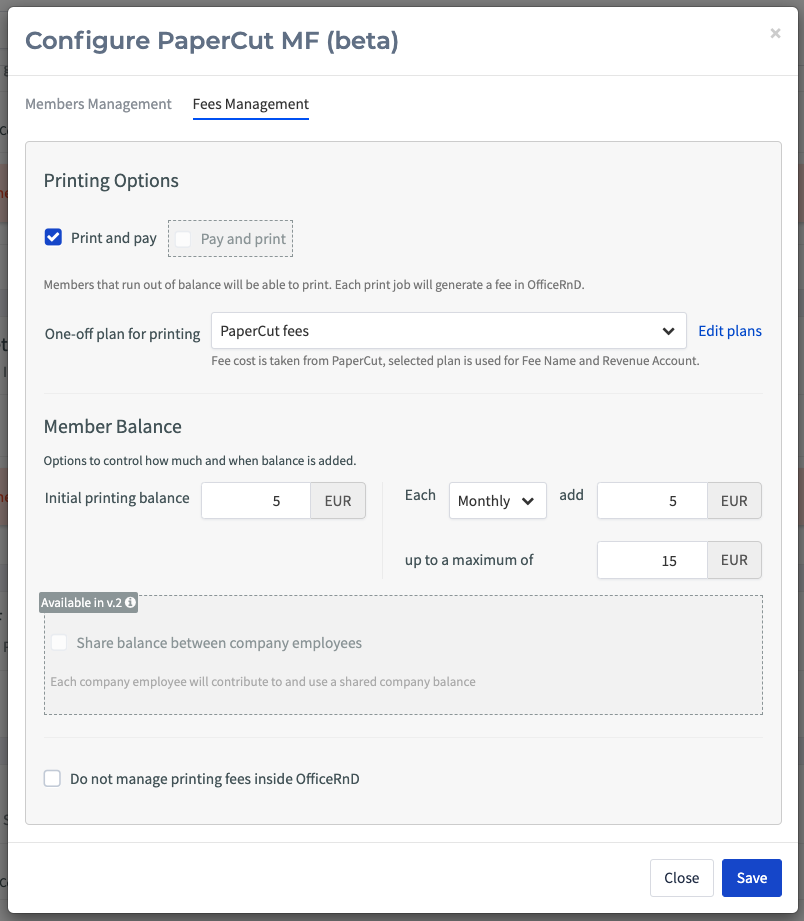 And lastly, on this page the "Do not manage printing fees in OfficeRnD" option allows operators to only sync the members and companies to PaperCut MF without fees being transferred to OfficeRnD.
Finalizing the PaperCut MF integration setup
Once the Member and Fees Management has been configured and saved, the integration will sync your users from OfficeRnD to PaperCut MF. Companies in OfficeRnD will be created as Groups in Papercut MF and Members will be created as Users inside the Groups. All individual members without a company are created in a separate group called Individual Members. You can take a look at how this will be organized in PaperCut MF below.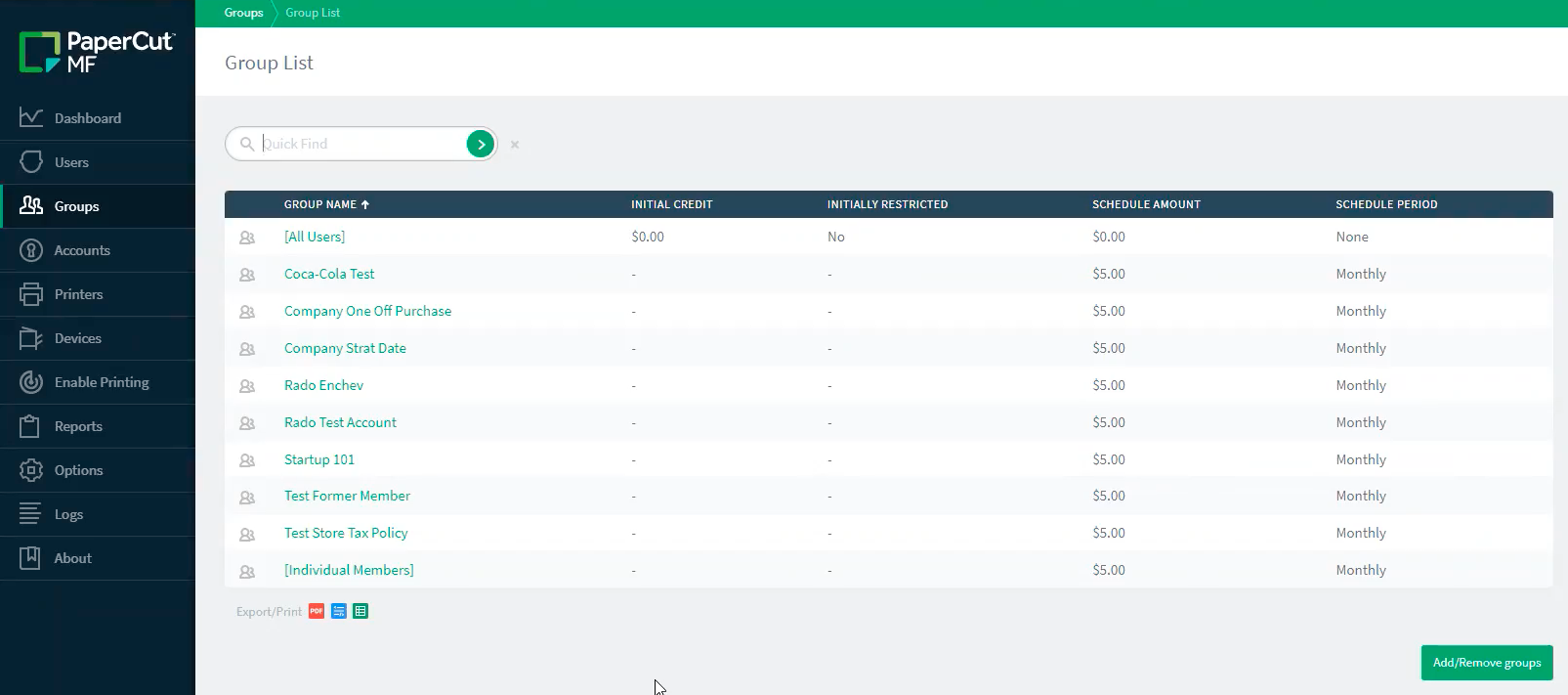 Log into PaperCut MF with OfficeRnD credentials
Once you have connected Papercut MF and OfficeRnD, your members will be able to log into Papercut MF using their OfficeRnD credentials. This login can happen on the printer itself, or any other device the person is using with PaperCut MF.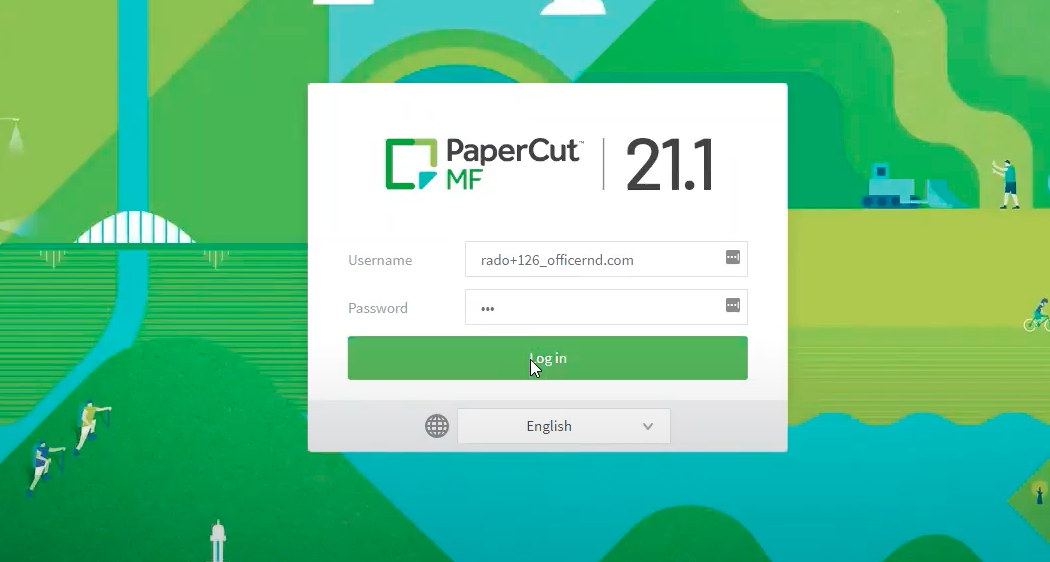 We are thrilled to launch the first version of Papercut MF to flex spaces worldwide and can't wait to see how organizations take advantage of it!
Please contact product@officernd.com if you want to enable the integration at your space!
Have we mentioned we love your feedback? 
We'd really love to hear from you! What do you think about this Papercut MF Update? Anything we missed?
Leave your feedback on our Flex Updates page. And don't hold back, we want all of it!
Happy Coworking!