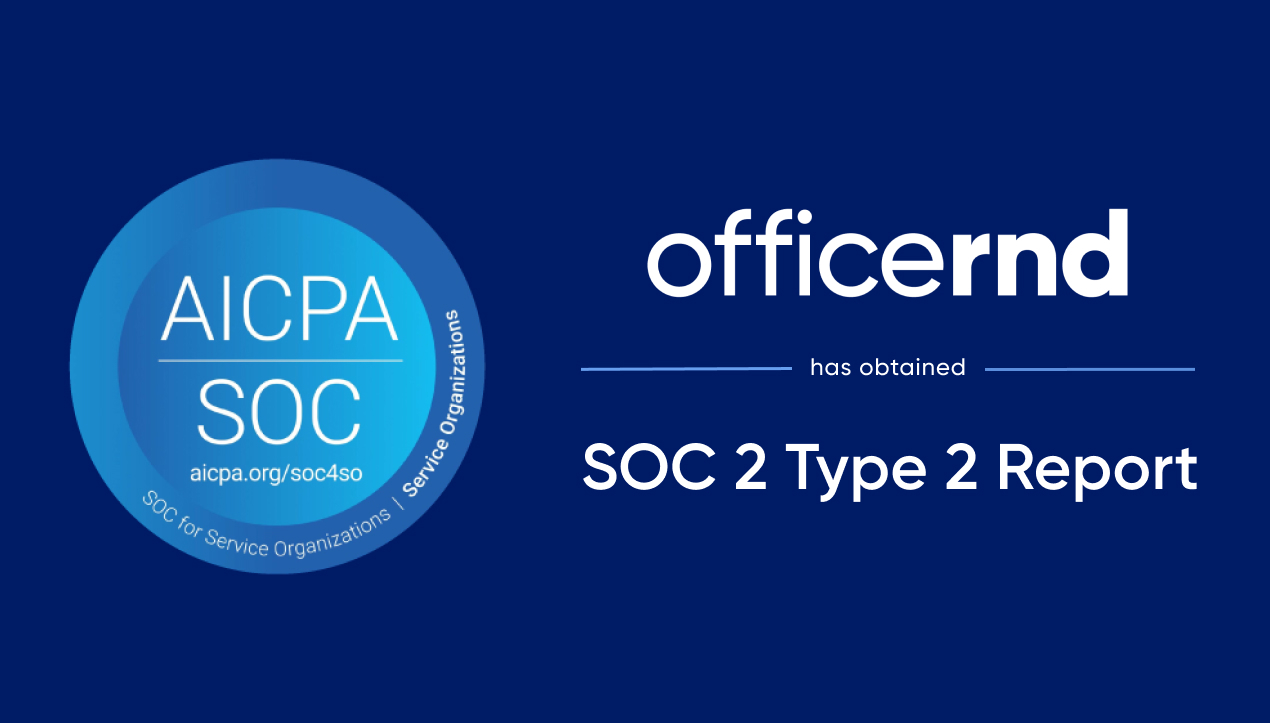 DATE:

AUTHOR:

The OfficeRnD Team
OfficeRnD has obtained SOC 2 Type 2 Report! 🔒
DATE:
AUTHOR: The OfficeRnD Team
We know the data you store in OfficeRnD —from member information, to plans and products, to detailed space maps—is vital to your business. This is one of the many reasons we're thrilled to take our operational excellence and data security to the next level; OfficeRnD has obtained SOC 2 Type 2 Report! Our report covers the Trust Service Criteria for Security, Availability, Confidentiality and Privacy.
At OfficeRnD, security is not something we pay lip service to. The SOC 2 attestation was conducted by leading compliance assessor A-LIGN. As a trusted third-party assessment firm, A-LIGN independently evaluated our processes and procedures, governance on internal controls, and security posture.
"As a leading Flexible and Hybrid workplace management service provider that is already ISO 27001 certified, obtaining a clean SOC 2 Type 2 report was a logical next step. This independent assessment of our internal security controls highlights our commitment to maintaining the highest standards of security for our diverse and global customer base." said Deyan Varchev, OfficeRnD's Chief Technology Officer.
Just a few of the things we're committed to going forward:
Going forward, OfficeRnD will perform a SOC 2 assessment on an annual cadence and can make the report available to current or potential customers upon execution of a non-disclosure agreement. If you are interested in viewing the OfficeRnD SOC 2 report, please request access here.
More than just SOC 2
Obtaining our SOC 2 Type 2 report is just one piece of our commitment to provide the best and safest workplace management solution on the market. We offer a full suite of features and functionality that provides the security, configurability, and control that enterprise customers have come to expect. This includes:
300 controls to protect our applications and your data.

Mature Information Security Management System (ISMS) with all related policies and procedures following industry best practices.

Web Application Firewall (WAF), Intrusion Detection System (IDS), File Integrity Monitoring (FIM) and comprehensive logging in place. 

SSO authentication support for all OfficeRnD applications.

And more!
We decided to prioritize SoC 2 because we know it's important to you! This report provides peace of mind for both ourselves and for our customers. Don't hesitate to reach out to our security team at security@officernd.com if you have any questions.