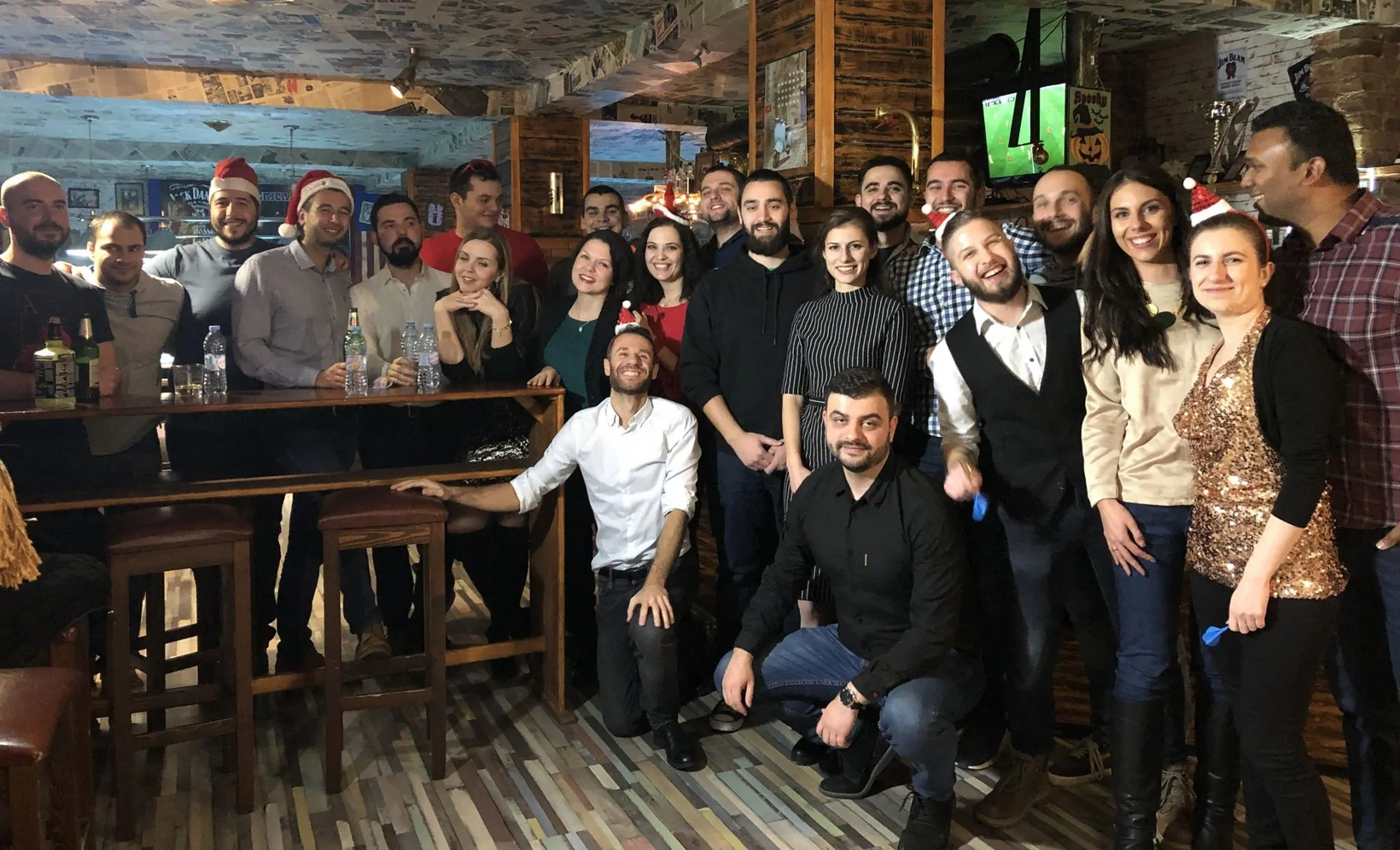 DATE:

AUTHOR:

Miroslav Miroslavov | CEO and Co-founder of OfficeRnD
OfficeRnD 2018 Year in Review
DATE:
AUTHOR: Miroslav Miroslavov | CEO and Co-founder of OfficeRnD
With 2018 almost coming to a close, we'd love to highlight some trends from the year and share all the amazing things that happened in the world of coworking & technology.
2018 was the best year for the global coworking and flexible workspace community. The term 'coworking' even made it to the official dictionaries! The coworking movement is real and is bigger than ever. More and more freelancers, startups, small and medium-size companies, and enterprise teams are joining the Office-as-a-Service movement. The demand for coworking is growing exponentially, and so is the supply. The competition is growing too which only makes the services and offerings better for all of us. From large scale coworking to small ones, from niche operators to major landlords, there's a good space for everyone.
2018 was the best year for OfficeRnD too. We released 87+ major new versions (yep, that's a new release every 4 days!) of the platform. We expanded our global footprint by adding more than 200 new customers. We are now serving more than 50 000 awesome members in 40+ countries. As a result, our team grew from 11 to 27 across London, Sofia, and New Zealand.
Team
In order to provide a great software solution, you have to start with a great team. And we're proud of how great our team is as we approach the end of the year! We care about each other and we care about the industry. The OfficeRnD team is willing to sacrifice long hours of hard work in order to provide world-class service and great software. Something that is key and is the ethos of the Coworking hospitality.
In 2018, 14 amazing people joined our team to support our growing coworking community. Thank you, Stoyan, Ivan, Deyan, Beni, Vini, Peter, Isi, Vlad, Mihaela, Yuki, Blago, Monika, Martin, and Rado. You are the best!
In 2018, we also visited 10s of coworking spaces on 4 continents, supported 4 coworking conferences and met in person with hundreds of coworking managers.
Product
Having great team and vision plus an amazing industry were the key factors in driving OfficeRnD to become one of the best coworking management solutions on the market.
We released 87 new versions and updates to the platform;

We resolved more than 900 stories – new features, bug fixes, and improvements. That's about 6000 code commits. There is not a single day without a 'commit' to make the platform better, faster and more feature rich.
But although we accomplished a lot, our best intentions to build the perfect solution for coworking spaces in a year and stretch ourselves to the maximum still couldn't catch up with our ambition. Still, we built a bit more than half of everything we wanted to build, and we're even more determined and ambitious about our plans next year.
Following is the updated roadmap – in dark green are items that we managed to nail, in lighter green are bits that we made progress on but still need more love: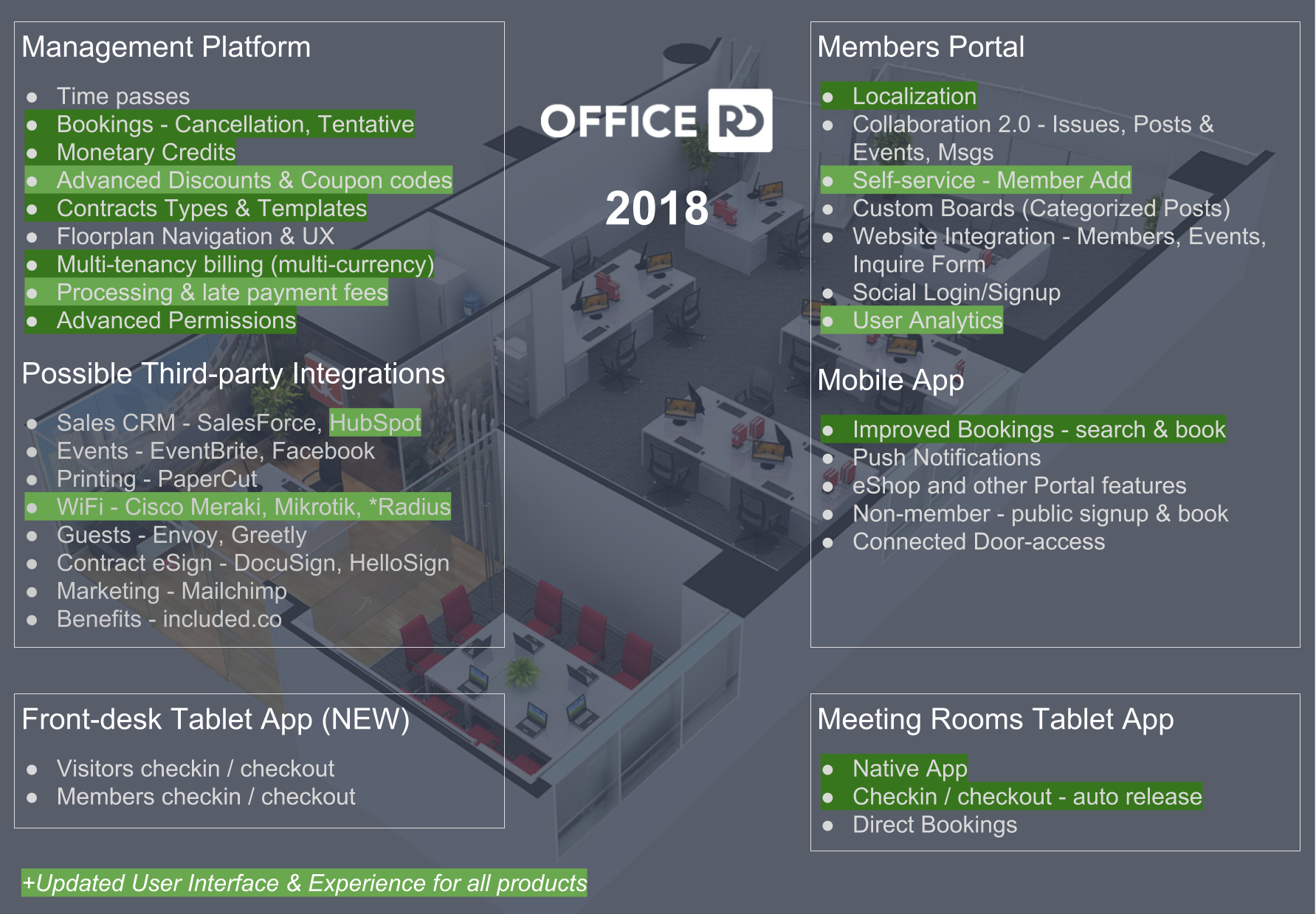 Here's a quick summary:
Coworking Management Platform – the biggest part of the effort we put was toward solidifying the backend and adding more capabilities to it:

Tentative Bookings, Cancelation policies and many other advanced booking policies were added

Monetary-value credits

Advanced Contract management – types, templates, and other advanced improvements

Admin Permission Customizations

Multilocation management – advanced billing setup, multi-currency

Processing Fees and Discounts

IronWifi integration

Several new Reports and Dashboards

Many UI/UX improvements across the board
Member Portal:

Localization

Improved Member self-service

First bits of user analytics

Many booking improvements
Meeting Room tablet displays

We made it a Native app

We made it more beautiful

Check-in feature and auto-cancelation (be on the lookout for those in our next release in early Jan)
We're looking forward to 2019 more excited than ever. There's so much more to do. We will revamp the members portal, the mobile app and of course, we'll add many new features to the backend management.
With your help, we will make coworking a more social, more mobile, more user-friendly experience for the members, more automated and integrated for the managers and more data-driven for the stakeholders. Stay tuned for our official 2019 Roadmap!
Happy Holidays to all our friends in the flexible workspace community! May 2019 be our best year yet!