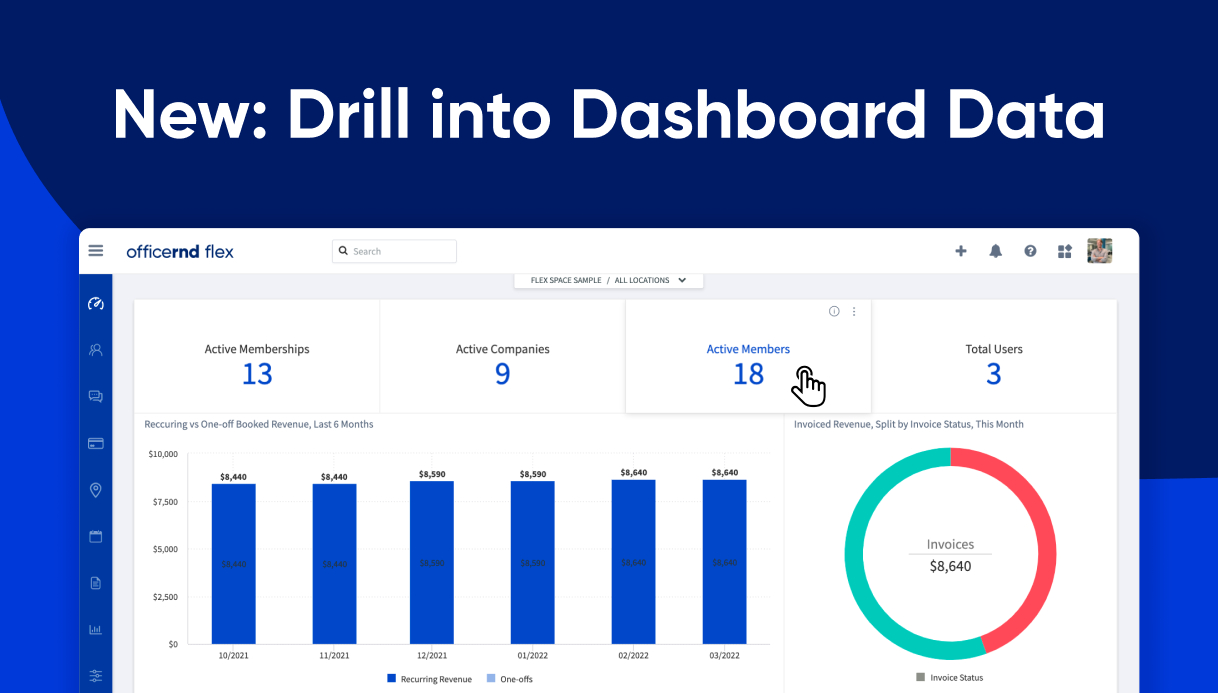 DATE:

AUTHOR:

The OfficeRnD Team
New: Drill into Dashboard Data 📈
DATE:
AUTHOR: The OfficeRnD Team
Last year we rolled out OfficeRnD Analytics – our first step in the vision to bring better workplace data to flex spaces. Over the past couple of months we have spoken to operators who started applying data analytics in their organizations and are already seeing the benefits.
One of the biggest pieces of feedback we have heard so far is that operators want to drill down directly into their workplace data! For this reason we are making improvements to Analytics that will allow you to jump straight into that data from charts and reports. We have started this work on the Home Dashboard - so that you can immediately find the relevant data you need from the admin portal.
Track Members, Companies, and Memberships 🔍
From the Home Dashboard you can now click on various reports and charts and you will be taken directly to that corresponding data in the platform. For example - to see a list of your "Active Companies" simply click on that chart from the dashboard.
We plan to extend this drill down functionality to the rest of Analytics in the coming months and are excited to see operators start using this to find the information they need fast.
Quickly Find Invoices from the Home Dashboard 🧾
It's now easier to jump into your invoices from the Home Dashboard! Simply click on the status of the invoices that you want to review and the system will take you directly to those invoices in the Billing section. We think this will help operators quickly find who still has unpaid or overdue invoices and will allow them to take action on those memberships.
Review Bookings, Contracts, and More! 📚
From the Home Dashboard you can also review contracts, room bookings, and more to dive further into your workplace data.
This is just the start of our journey to make dashboards and reports across OfficeRnD more interactive and clickable - so that operators can quickly find the people and things you need.
Thoughts? Questions? Concerns? Click the Leave Feedback button on the left and let us know what you think! 🚀