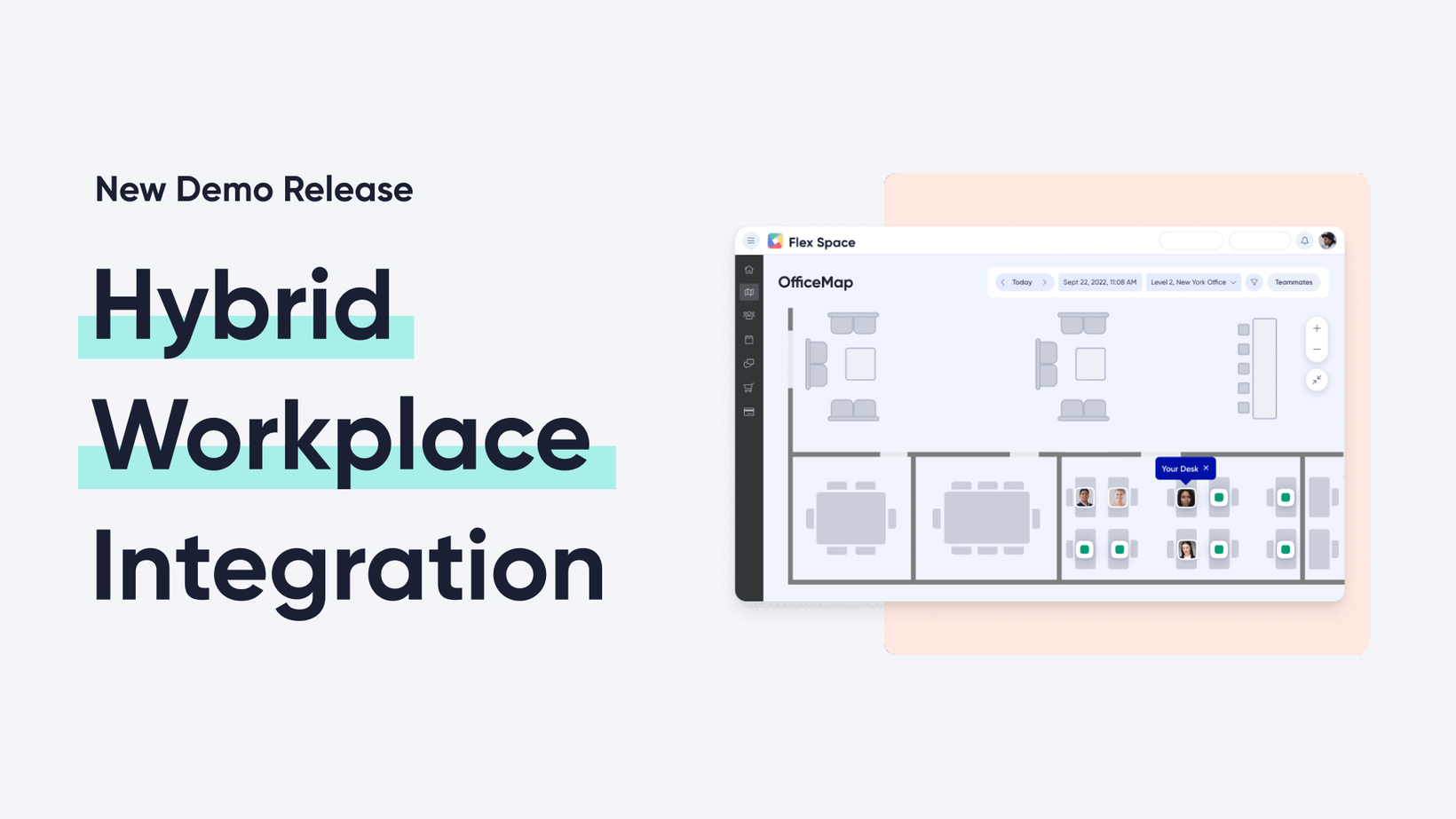 DATE:

AUTHOR:

The OfficeRnD Team
Admin Portal
Booking
Member Apps
Hybrid Workplace Integration - Demo Release
DATE:
AUTHOR: The OfficeRnD Team
As employees return to the office in new and different ways, we know there is an enormous opportunity for hybrid working inside coworking spaces! Newer workplace demands are emerging for the hybrid workforce, and member companies want to work in more collaborative ways. 
A request we have frequently heard from operators over the past year comes from member companies that want to manage their employees in a more hybrid way. A team of 12 working out of a coworking space might share a private office with only 6 desks and would like to collaborate on their team's work schedules to ensure there is room when employees want to come into the office.
To solve this problem, we are integrating our Hybrid Work Platform, OfficeRnD Hybrid, directly into OfficeRnD Flex!

The Hybrid Workplace Integration will allow operators to give member companies modern and easy-to-use booking tools for coordinating hybrid schedules and improving member collaboration. Members can book desks and meeting rooms, plan work schedules, and invite teammates, all from within the same member portal. You can watch a short video covering the integration demo here.
With the Hybrid Workplace Integration, your members can seamlessly reserve a workspace within their private office that suits their needs, and their team can easily understand when and where they are booking. 
Hybrid Workplace Demo Launching TODAY
Today we are announcing the Hybrid Workplace Integration Demo so operators can test the Hybrid functionality their members will experience. The complete Hybrid Workplace Integration will be released by the end of this quarter, so operators can enable this feature for selected clients.
To activate the Hybrid Workplace Integration Demo, navigate to "Hybrid Workplaces" in the blue navigation bar in your Admin Portal and select the "Enable Office Hybrid Work Demo" button. Once enabled, this will add a new "My Office" tab in the Members Portal where admins can see what the experience will look like for their members when the full solution launches. Admins can test out floor plan desk booking with a demo office map, review their team's work schedules for the week, and see a list of all upcoming bookings.
Keep in mind that members will not be able to see the "My Office" tab in their Members Portal at this stage - only operators will be able to see this until the complete Hybrid Workplace Integration launches at the end of the quarter. 
Benefits of Hybrid Workplace for Member Companies
The Hybrid Workplace Integration lets member companies plan their week in the office and book desks from the Members Portal, making it easy for their team to manage their work schedules and invite teammates to the same place.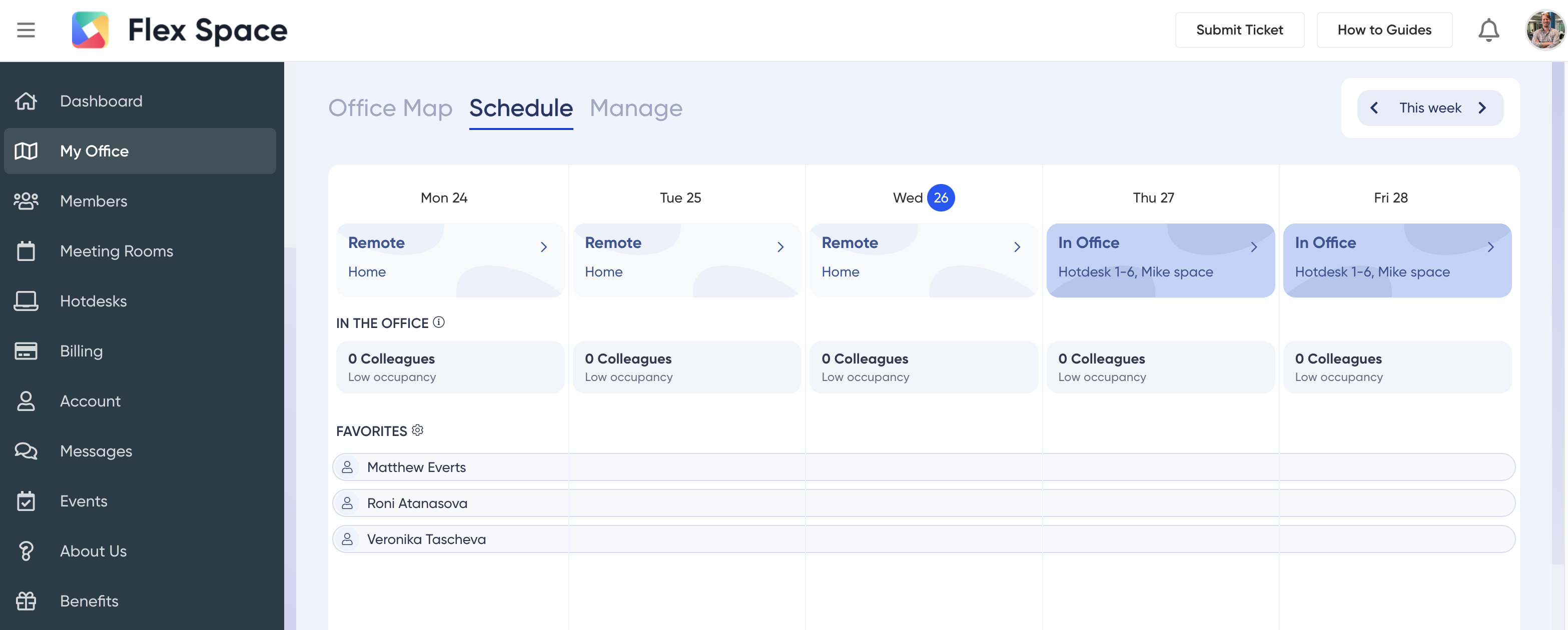 The Hybrid Workplace Integration is an ideal solution for companies working in larger offices or spec suites. It allows them to work in a hybrid model, with only a portion of their team in the office at any given time. From the "My Office" tab - members will be able to quickly book desks inside their own private office, further enhancing the flexibility and convenience of the platform.
The Hybrid Workplace Integration also provides deep analytics into how member companies are utilizing the workspace and allows teams to adapt and optimize their office space accordingly. Member companies can monitor employee office usage easily and make more informed decisions about their workplace policies. 
Benefits of Hybrid Workplace for Space Operators
The Hybrid Workplace Integration can provide operators with new revenue opportunities and competitive advantages over other flex spaces that cannot support hybrid teams. By embracing hybrid work, coworking operators can attract larger tenants to smaller spaces and maximize revenue per square foot.
Once the full Hybrid Workplace Integration launches, operators will have the option to advertise Hybrid Workplace services to their member companies in the Shop - providing new revenue streams for their business. We believe this functionality will help operators looking to attract new tenants, optimize their workspace, and offer a range of flexible and convenient services to their existing members.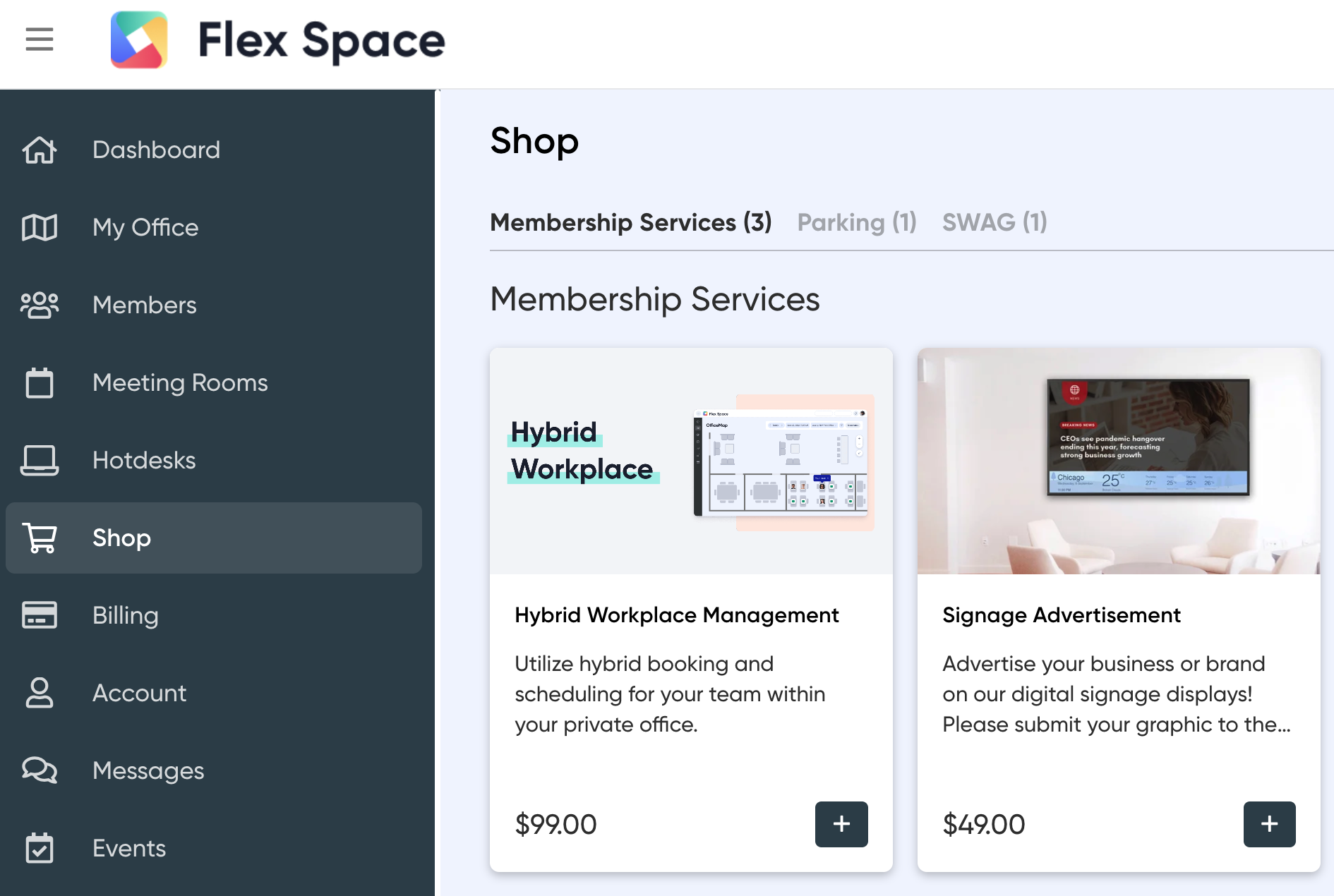 Hybrid Workplace Pricing and Business Model
Once the full integration is live later this year, the cost for operators will be tied to the number of Members that are using the Hybrid Workplace integration to manage their private offices, and we'll be charging $1 per active member/month.
Operators will be able to choose which members companies to enable the integration for so they can:
Control the cost associated with rolling out this additional digital service to your customers

Ensure a smooth roll-out plan by being able to phase out the release
With the Hybrid Workplace Integration, our team has delivered the full OfficeRnD Hybrid product experience to member companies that want to use hybrid working. The solution for members has an additional cost because we have to cover the expenses to develop further and improve the OfficeRnD Hybrid product as well as to maintain the integration.

Preparing Member Companies for the Hybrid Workplace Integration
As Hybrid working is a new concept for many companies, we understand that there will be some education needed so member companies better understand how they can work in your space in a more efficient hybrid manner. We have created some sample verbiage that can be used to explain the benefits of this functionality to your members and get them excited about the upcoming feature:
The Hybrid Workplace functionality allows your company to take full advantage of the office and embrace hybrid work within our coworking space.
Manage resources in your private office and allow your employees to easily choose the desks they will be working at that day.

Understand when certain teammates are coming into the office and invite your favorites with collaborative work scheduling.

Monitor space analytics to make better workplace policy decisions and take control of your office.
What's Next for the Hybrid Workplace Integration
The Hybrid Workplace Integration is live today and can be enabled from the Admin portal so operators can better understand the hybrid experience for members. We would love to get your feedback on this functionality so far before we roll it out to members - you can submit feedback here.

By the end of the quarter, we plan to launch the Hybrid Workplace experience fully - and operators will be able to select specific member companies they want to activate this functionality for! You can see a preview of what the upcoming Hybrid Workplace Integration admin experience will look like for operators below: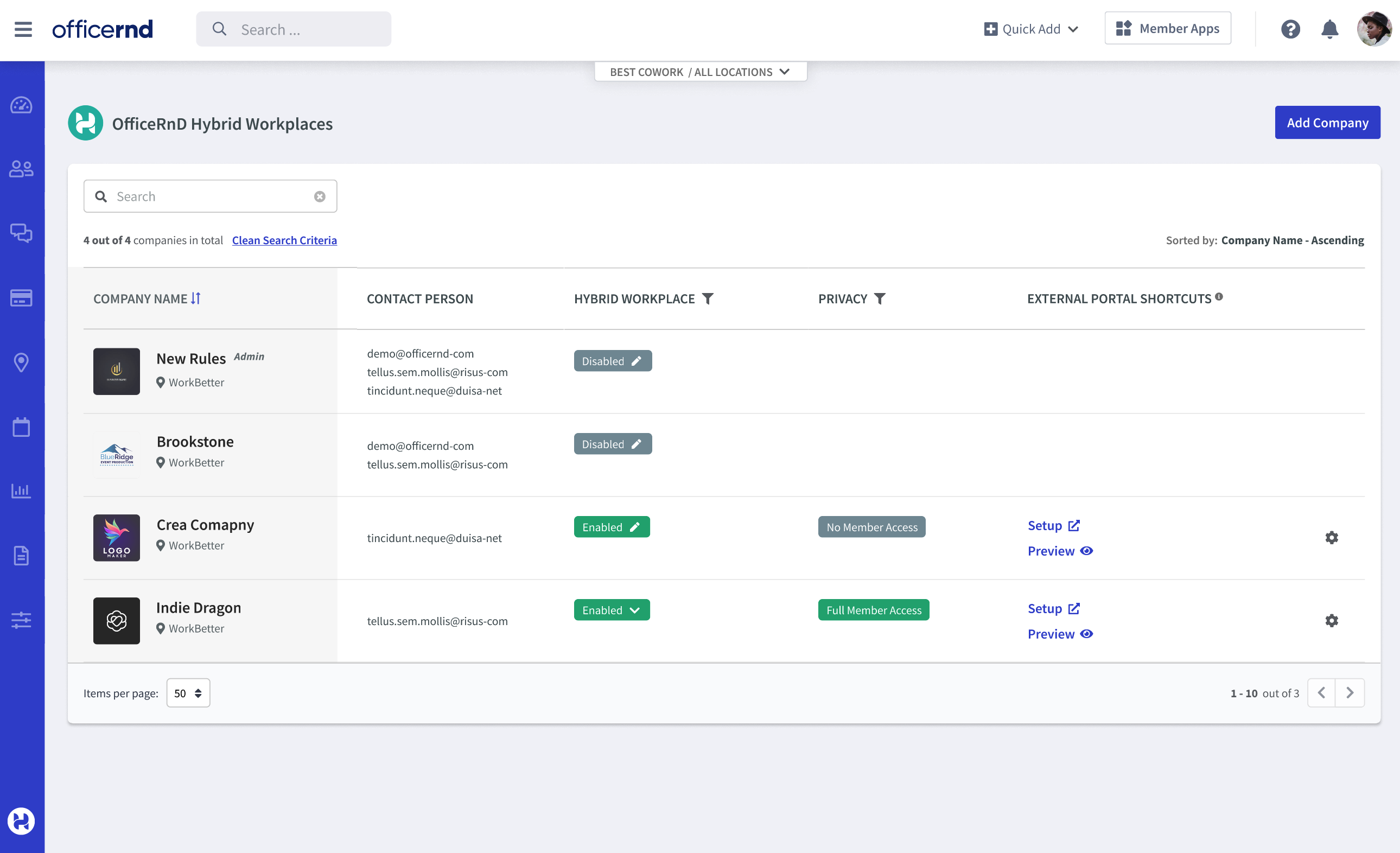 We'd love to get your feedback! 
As always, we greatly value your input on what we're building. If you have more questions about the Hybrid Workplace Integration Demo release, you can check out our detailed FAQ here. Stay tuned for more feature releases, updates, and improvements, and as always, let us know what you think by leaving us feedback on this announcement. Please and thank you!