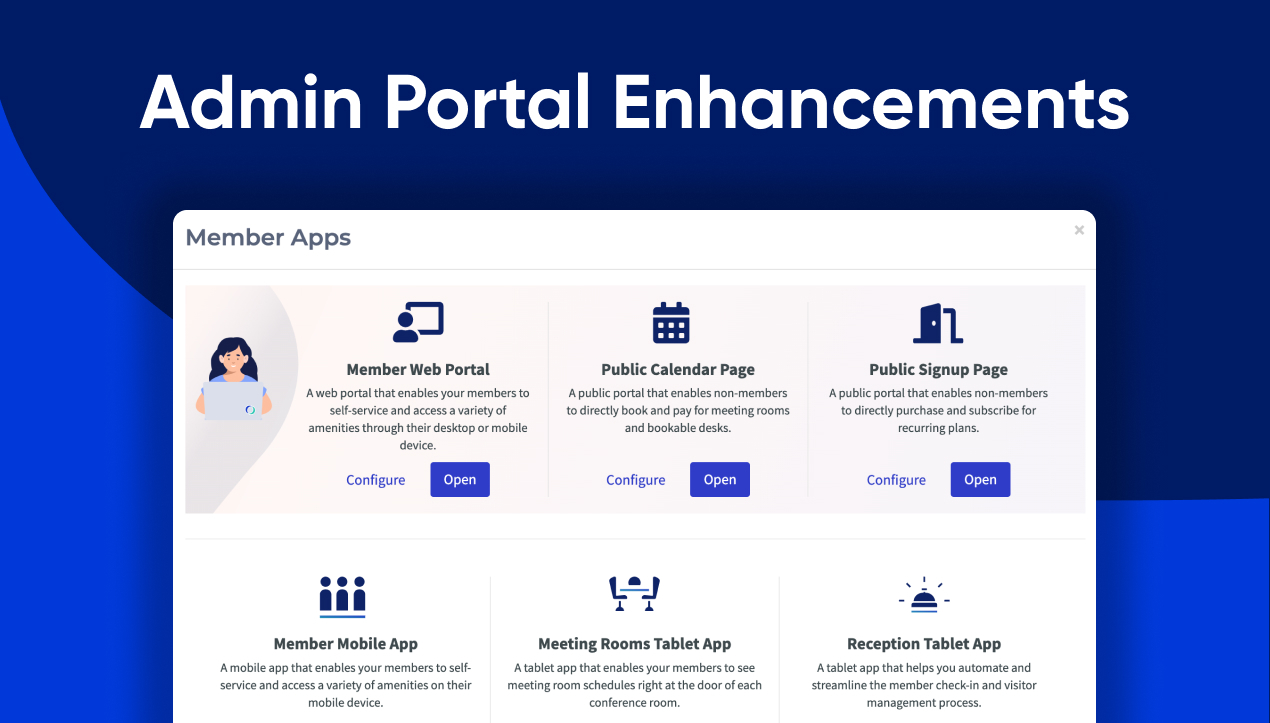 DATE:

AUTHOR:

The OfficeRnD Team
Feature Friday - April 14: Admin Portal Enhancements
DATE:
AUTHOR: The OfficeRnD Team
Before everyone takes off for the weekend, we have a couple of updates we think you might like! At OfficeRnD, we're continuously improving our platform to build better operator experiences, and today we're excited to announce a few enhancements for the Admin Portal!
The Admin Portal features include a new Member Apps button, a responsive sidebar to make section navigation quicker, a redesigned top menu bar with quick add buttons, and a refreshed chat and support experience. We also have quite a few bug fixes we've launched over the past few weeks. And with that - lets dive into the updates!
Explore Member Apps more easily
The new Member Apps button is prominently displayed on the top menu bar, making it easy for operators to find and manage their member apps. Quick links have been added next to to each app so that operators can jump to the specific settings and configure their member apps. We have also added direct links to the App Store and Google Play store so that operators can easily find and download their apps.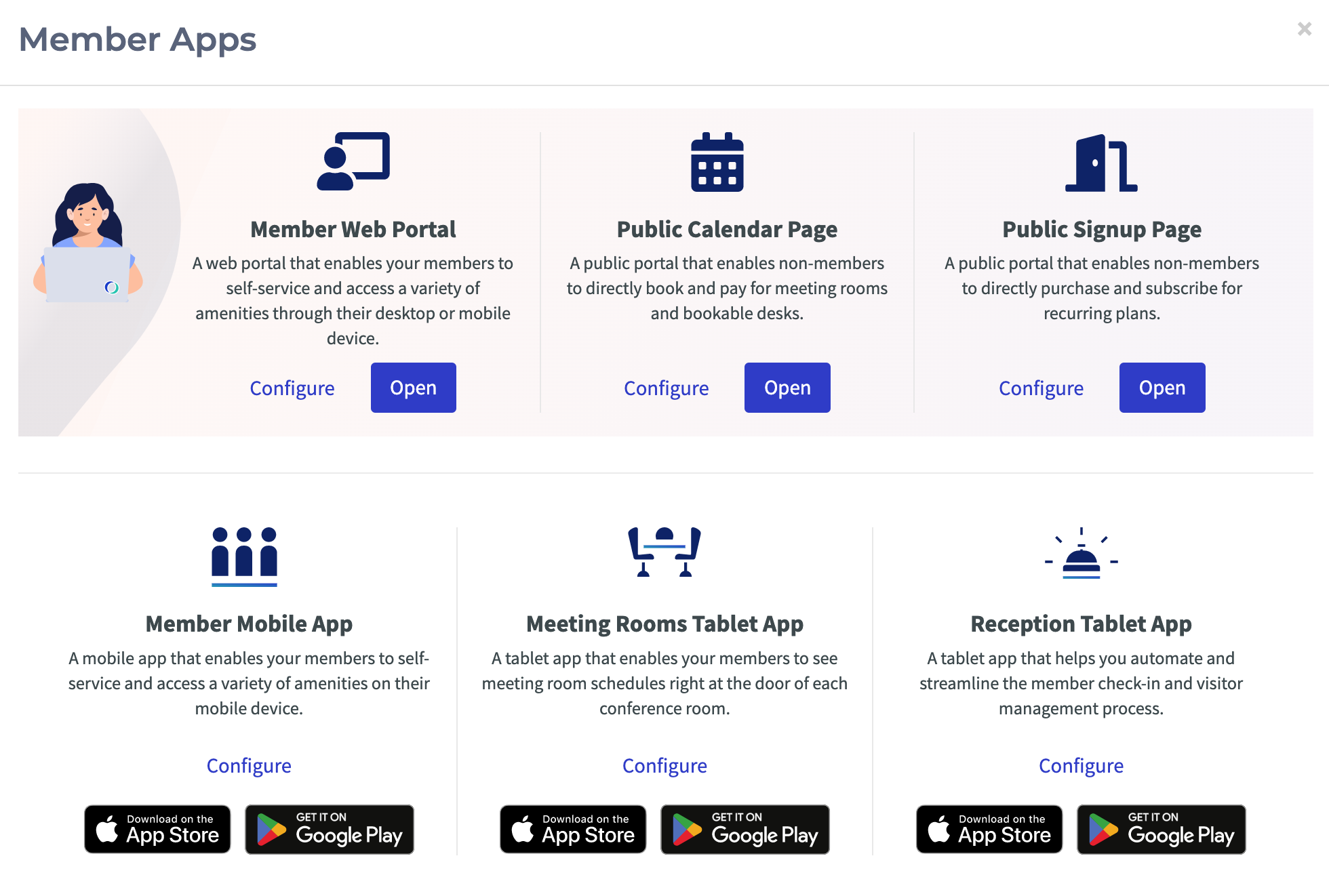 New Responsive Sidebar
The team has introduced a responsive sidebar that will allow you to easily navigate through the different sections of the Admin portal. The new sidebar automatically expands so operators can quickly find the section they are looking for. With just a few clicks, operators can access all the different sections of the portal, including the dashboard, bookings, community section, and more.
Refreshed Top Menu Bar
Along with the new "Member Apps" button, the top menu bar now includes a redesigned "Quick Add" button that allows operators to add members, companies, fees, contracts and more. This feature makes it simple to add new members from from anywhere in the platform. We have also made improvements to the search bar, so looking for specific companies, members, and invoices is easier than ever before.

New chat/support experience
The team has also added a new chat and support experience that can be accessed by clicking the Flex Icon in the bottom right. This menu allows for quick access to our help center or lets operators start a direct chat with a support agent - so you get the answers you need, when you need them.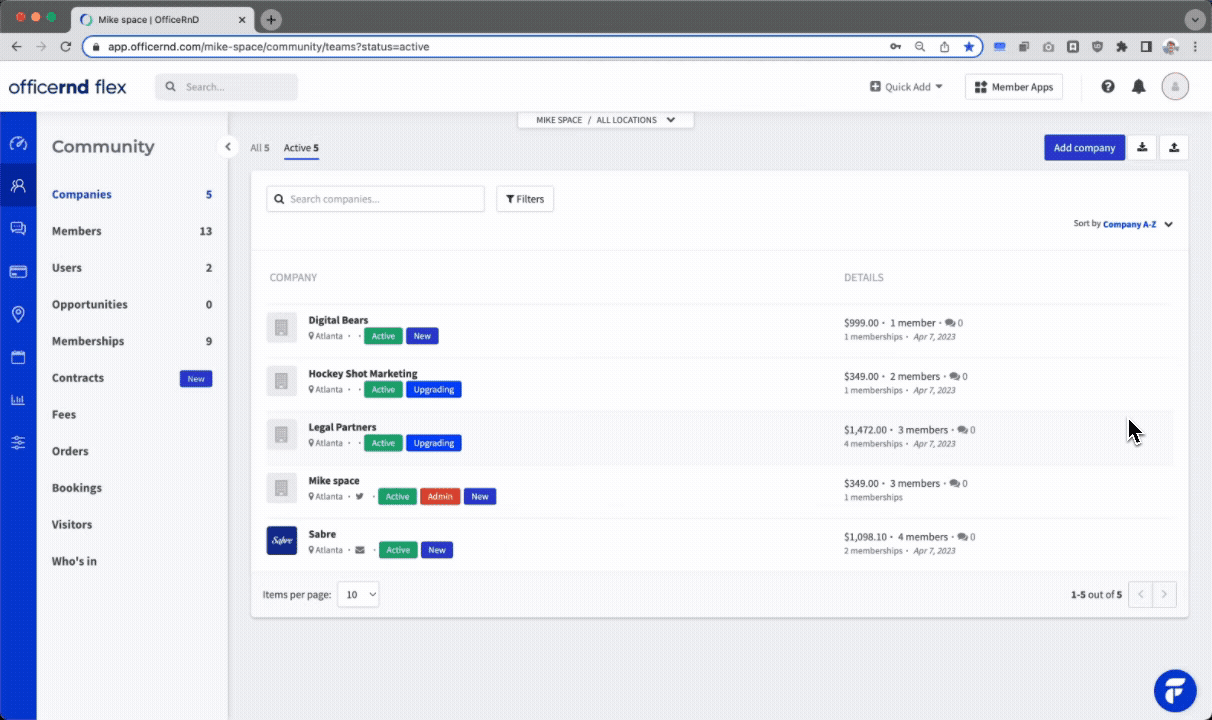 Bugs: Fixes and Improvements
Fixed an error where Members were unable to see their credits in the portal

Fixed an issue where custom roles could not invite members to the portal

Admins with custom roles should now be able to add and edit custom dashboards

Fixed an issue where Stripe Bacs payment details were removed after sync

Fixed an issue where the Contract termination button did not work consistently

Admin SSO was not recognizing users that were using caps in their email

Fixed an issue where contracts without deposits were crashing the UI

Fixed an issue where custom properties were missing from the contract details page

Importing a membership with the price of 0 now creates free plans

Fixed an issue where no upcoming bookings were shown on the mobile app.

Fixed text alignment for certain sections of the admin portal

Fixed an issue where IronWifi settings were not updating correctly

Fixed an issue where Member bookings requiring a credit card did not respect the purchase flow

Fixed an issue where some custom links in the member portal were broken

Fixed an issue where Papercut credits were not syncing with new members

Addressed an issue where different currencies were displayed in certain dashboards and widgets

Fixed an issue where deleting the first member deleted remaining coins

Fixed an issue where shop items would fail to load sometimes

Improved the text message you receive when you try to check-in again for a booking that you have already checked-in for

Fixed an issue when using subdomains for community portals, the regional portal URLs were not correct

Fixed an issue where Hellosign was not activated if "Update" button is clicked quickly multiple times

Fixed an issue where opening a link with an already selected location allowed users to proceed without selecting a plan

Fixed an issue where floorpan rotation didn't work

Addressed an issue where the Pay Now link was wrong on some invoices
API Changes
[Mobile]: Creating a post through the public API and setting the URL to Null no longer crashes the mobile app
Feedback always welcome
As always, we greatly value your input on what we're building. Are you happy about the recent Admin portal improvements? Is there anything else you think we should be working on here? Let us know! Please and thank you.