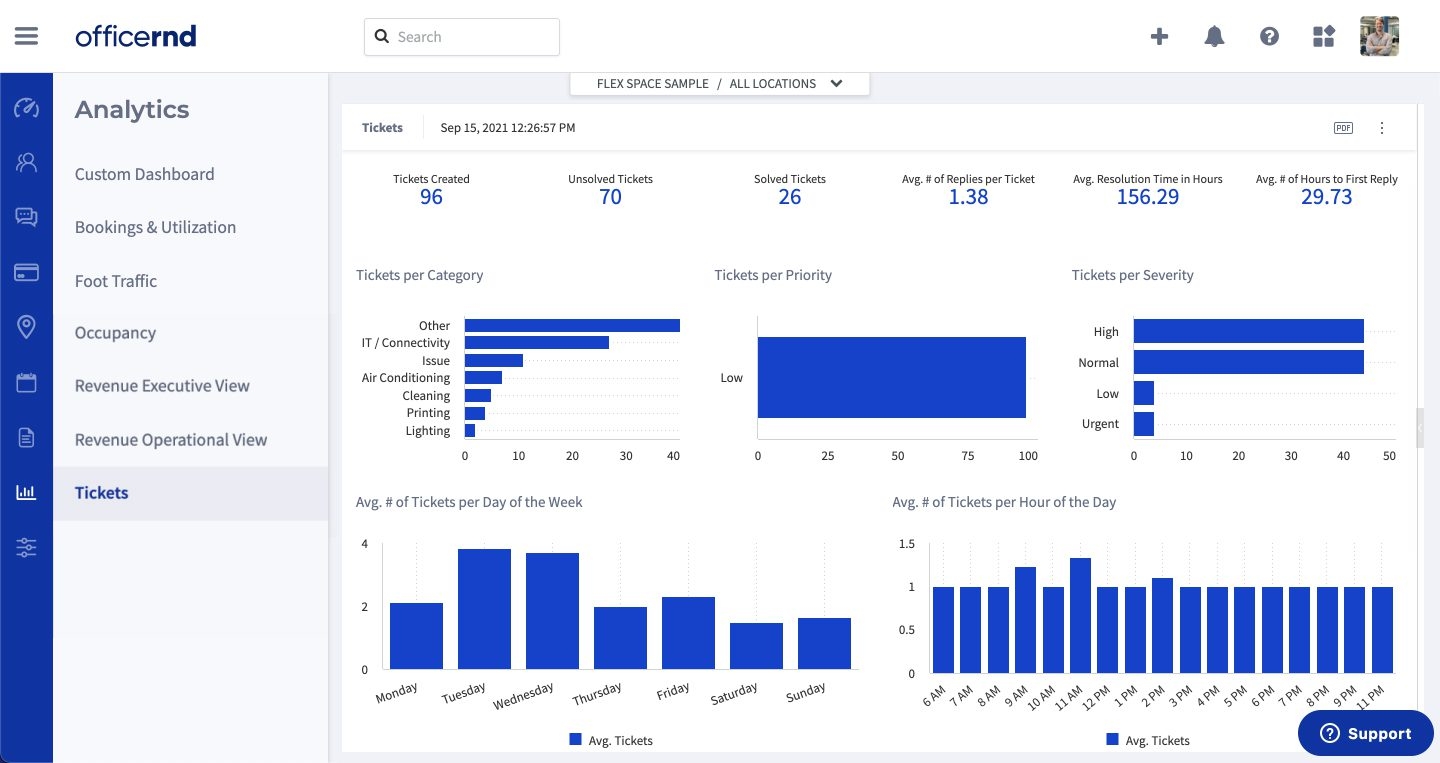 DATE:

AUTHOR:

Michael Everts, Product Marketing
August 2021 Update: Tickets Dashboard and Data Export Improvements
DATE:
AUTHOR: Michael Everts, Product Marketing
With the August release we have added a new Tickets Dashboard to the Analytics platform as well as made improvements to our Membership Export functionality.
Let's jump straight into the details.
We Released:
Tickets Dashboard for OfficeRnD Analytics

Membership Export now includes custom properties

Bottomline PTX payments integration now supports multi-location scenarios
Introducing the new Tickets Dashboard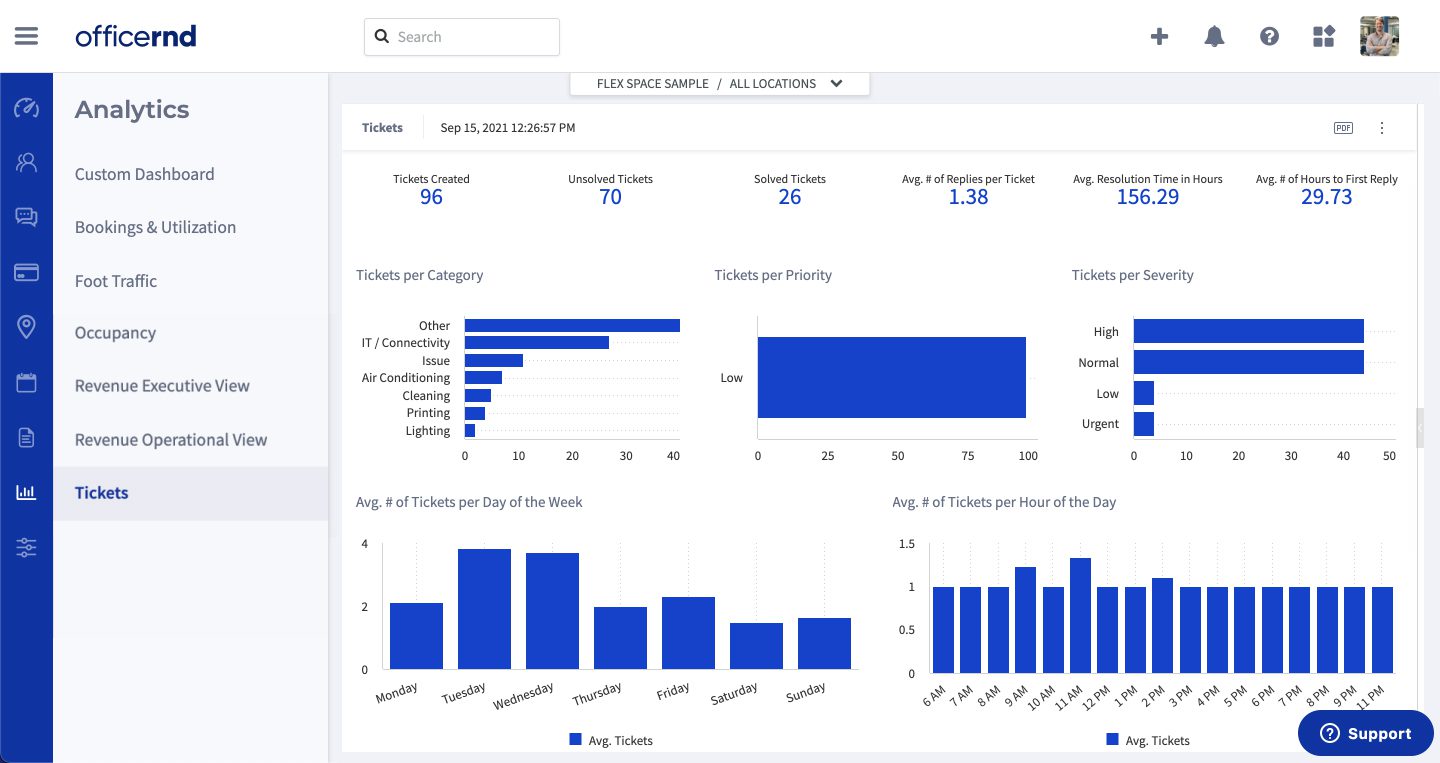 Work continues on refining the Analytics Platform that we introduced earlier this year with the introduction of our Tickets Dashboard. The Tickets Dashboard gives your team a detailed look at various stats surrounding the tickets that your members submit.
This new dashboard will give your team a better idea of what type of issues are occurring, when they are occurring, and how quick it takes for the team to get them resolved. Like all of our Analytics Dashboards, operators can dive into the data and look at specific time periods to find the report they need. There is more work to be done to improve the Analytics module over the coming weeks so stay tuned!
Membership Export Improvements
Over the past few weeks the team has mode improvements to the Export Members functionality. Custom Properties (like Birthdays or License Plate Numbers) will now be included in the .CSV file when exporting members to help simplify data transfer between systems.
Bottomline PTX Payment Gateway Improvements
We have made improvements to the Bottomline PTX integration so that it supports multi-location scenarios now. We are always working to improve our payment gateway integrations for seamless online payments. Please leave any comments or questions about our payment integrations below!
Bug fixes
The "Deposit held" balance would count deposits detached from already paid invoices

Merge of companies would fail if the source company contained memberships tied to a member

Filtering by location did not filter results in the Community or Admin calendars

The contracts payment schedule would show incorrect data when the company has a billing date set

Ezidebit would not sync if there is only one customer added

Center Managers weren't able to delete memberships or approve one-off fees

Locations could not be added/edited after a new space is created

The "Read more" link in the add/edit contract dialog would open a non-existing page

Deposit amounts would be added even if they are not present in a Contract

Contracts' end date is incorrectly displayed when viewed in the Company/Member Profile and Contracts Overview section

Membership start dates would appear incorrectly in floorplans when a negative time zone is set

Invoices' due dates would appear incorrect when the admin has a negative time zone set

View statement invoice issue dates would appear with a wrong date for negative time zones

Merging companies would not work if there are memberships part of a fixed-term contract

Merging companies with members with personal memberships or with assigned membership would throw an error

A deposit amount would be added in memberships with no deposit value

Plan Terms are not displayed on the Sign-Up page

The "Who's" in page is not showing Visitors who registered via the OfficeRnD Reception App

Child meeting rooms don't appear as booked on the Member Portal when the Parent room is on a different calendar page.

When booking a hotdesk from the public calendar the start date of the company/individual member is -1 day to the day of the booking

Credit validity is not updated for the current month if you change the plan end date

Drop-in members of a company can't see items in the shop that should be "Available on signup and for drop-in users"

One-offs mark-up is not respected when purchasing items from the Sign-Up page or the Member Portal.