DATE:

AUTHOR:

Martin Kanovski | Product Manager
DATE:
AUTHOR: Martin Kanovski | Product Manager
We wanted to end April strong so we are releasing a few really exciting features and the usual bucket with fixes for known bugs. You can read all about this new stuff in OfficeRnD below.
— TL;DR —
We released:
Custom properties for bookings

TAX Policies – a way to customize TAX rates per location

"Add Fee" button in Community -> Fees section
We Fixed:
More than 15 bugs which nobody will miss
——
Custom Properties for Bookings
We are constantly adding new ways in which you can setup OfficeRnD as close to your business model as possible. Custom properties play an essential role in this effort because every organization has its own needs and information that go with each entity.
With this release, Bookings are one more entity you can customize. And because we know not all bookable resources are the same and not all of them need the same properties we have allowed you to assign them per Resource Rate. Resource Rate is something similar resources share so it is most probably true that they also need to share the same properties.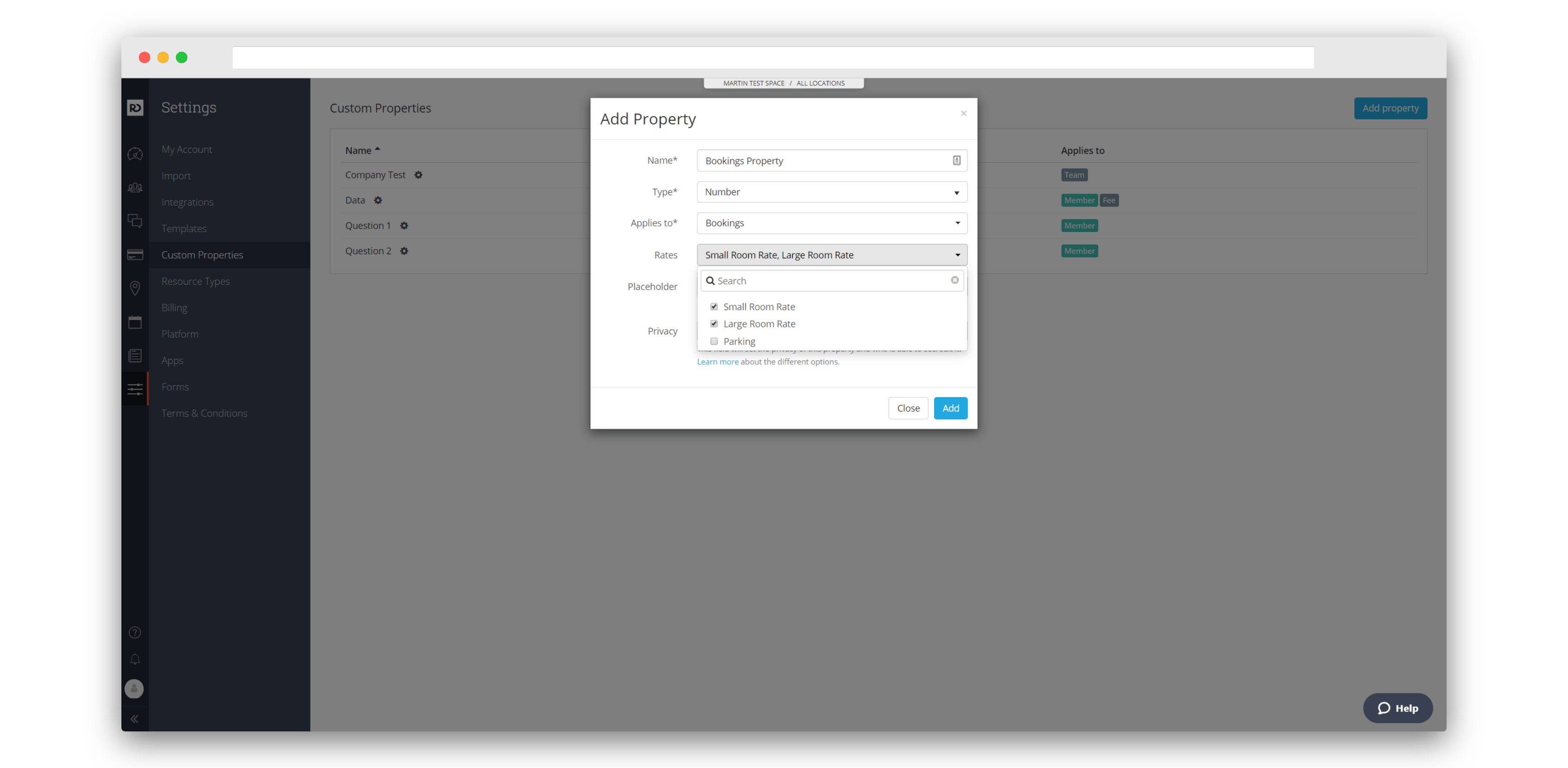 You can create and assign the new Bookings' custom properties from Settings -> Custom Properties similarly to all other ones you are already familiar to. The only difference is once you select a certain custom property should work for Bookings you will see one more multi-select field in which you will have to specify the Resource Rates for which it should be respected.
TAX Policies
This new feature allows greater flexibility of what taxes you apply per different location. We know about many EU organizations which have locations in more than one country and need to have different tax rates applied to invoices depending on that but at the same time, there are many other reasons around the world because of which you might need/want to use this.
Back to the example with the EU organizations which until now had to duplicate all of their memberships, plans, and accounts and use the appropriate copy of each to be able to tax different locations differently. Although this was working just fine it was creating many inconveniences like multiple copies of memberships and plans, harder reporting per account because of duplications, etc. Now with the new TAX Policies, you can assign different TAX per account per location.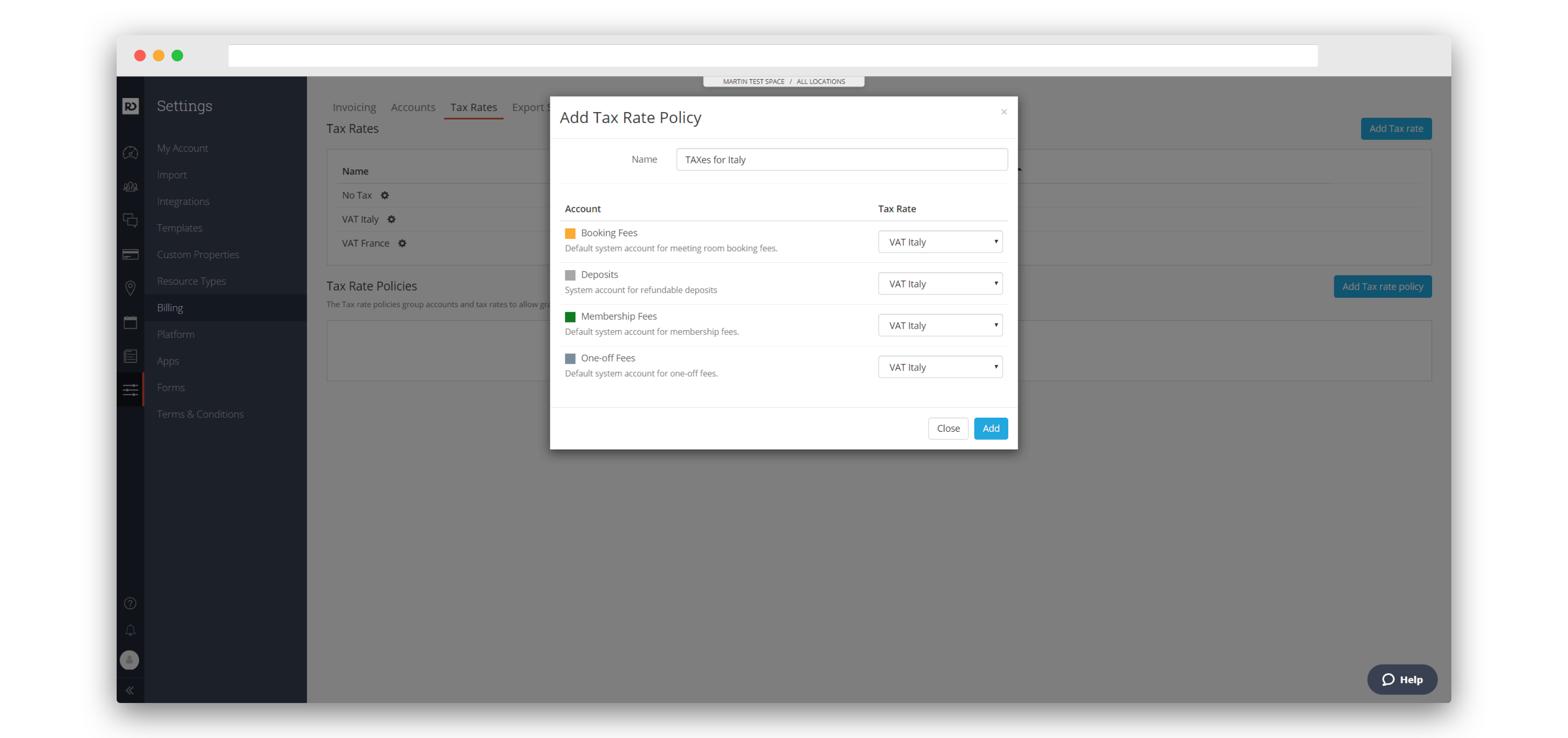 You can find TAX Policies under Settings -> Billing -> TAX Rates tab. After creating one you should go to Space -> Locations -> Edit location -> Billing Details tab and select the TAX Policy you want to use for this location. Once chosen everything going to an account will have the TAX set from the TAX Policy you selected.
If a location doesn't have a TAX Policy specifically selected it will use the "default" one which is just the TAXes set in the Accounts settings which haven't changed and this is how the system has been working for a while now. Also if you don't need TAX Policies and haven't created any you want to notice any changes what so ever.
"Add Fee" in Community -> Fees
This is a very small new thing but it will have a great impact on organizations which add fees manually on a regular basis. Quickly adding fees without going into a certain member is a very powerful thing if you are let's say on the reception and you need to add a fee for a different member every few minutes.
Now you can find a button "Add Fee" at the top of the Community -> Fees section. It will open a dialog you are very familiar to from "Add Fee" inside a selected member. The only difference is now the Member/Company you want to add the fee for won't be pre-selected.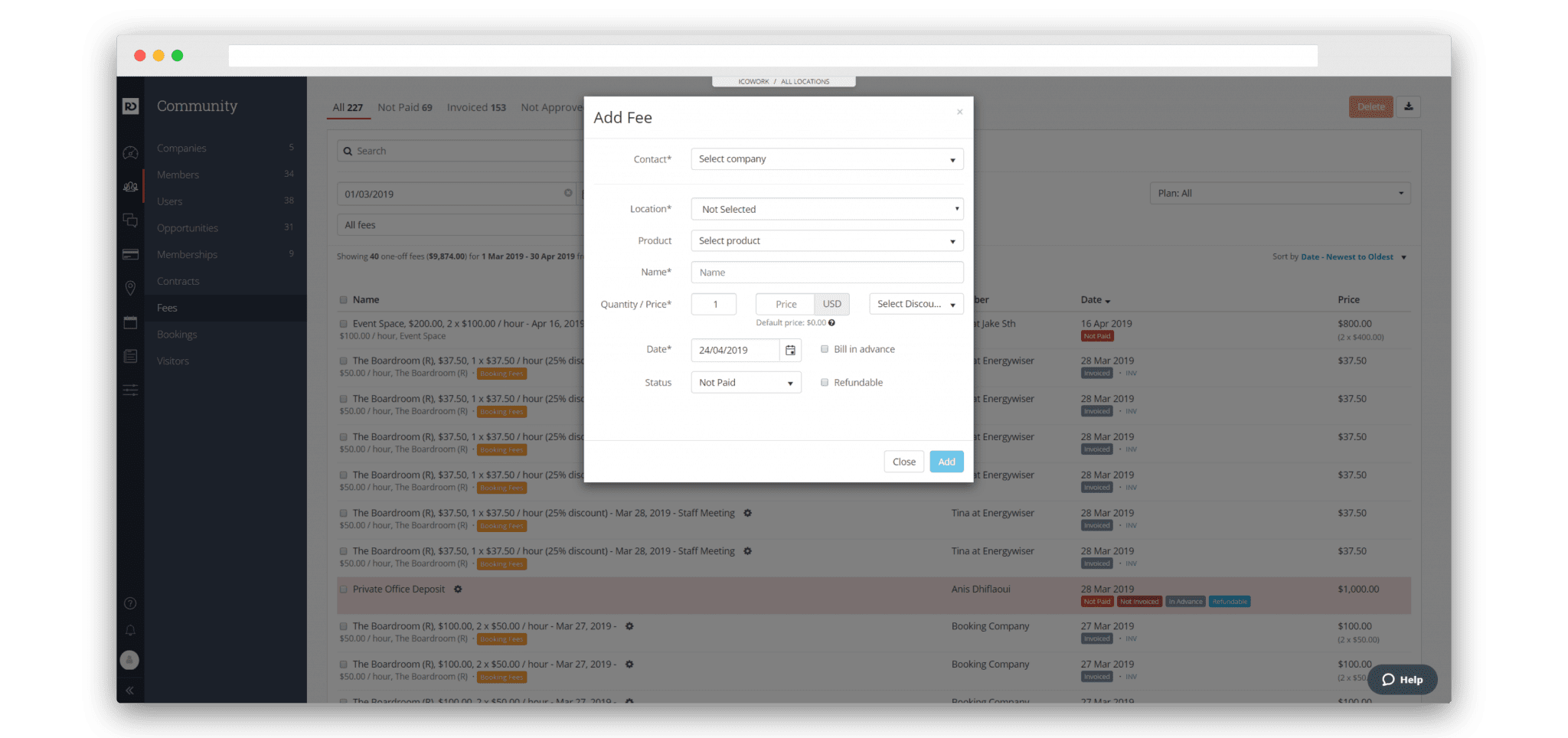 Following is the list with all changes and updates included in this release of OfficeRnD:
NEW
Custom properties for bookings

TAX Policies – a way to customize TAX per location

"Add Fee" button in Community -> Fees section
FIXES
Reset password link was working even after successful password reset

Custom property dates were offset by "-1" day when inputted from the Sign-Up page

Renamed 'Billing date' to 'Billing Period Start' setting in Settings -> Billing

Check-out API was disregarding the office properties

Re-account Bookings Schedule was slow and was causing a heavy load on the server

It is not technically possible to download Credit notes from Quickbooks and the link to do so should be disabled

Visits (from bookings) were deleted on every 1st day of the month

Phone location detection was always calling the service and the phone codes were always registered as from the USA

Browsers were stuck when navigating in Community and you have a lot of memberships

Location property was not working if set in Member Feedback email templates

Admin Community -> Members or Users was not opening Active member but All members

Kisi integration was sometimes returning 0 active keys when in fact there are more than 0

The new releases RSS feed wasn't loading

The Salto Config Dialog was showing 'Loading SaltoKS Configuration' title instead of 'Loading Salto Configuration'
We are constantly working on many new features, improvements, and fixes. Use our support channels if you want to submit feedback.